Xmas collection - December 2016
Santa gets his Claus into lots of money "" your charity could too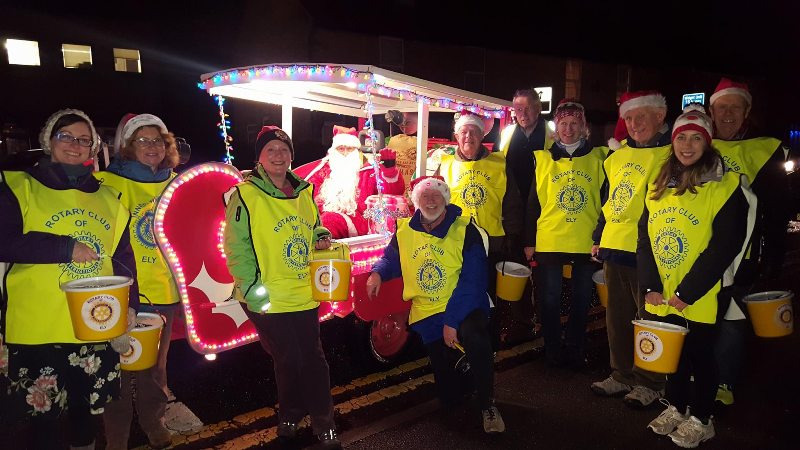 Santa gets his Claus into lots of money – your charity could too
The people of Ely and the surrounding area once again made generous donations to the Rotary Clubs of Ely who will now be able to support local charities, disaster areas and other good causes. The collection around the streets of Ely raised £6,036 and the High Street collections on two Saturdays raised £1,206 making a total of £7,242. This is just slightly less than last year in total but the Clubs are still extremely grateful to the householders and those visiting Ely for their great generosity.

The organisers also wish to express their sincere thanks to 1st Call (Hire & Sales), The Dock, Ely who generously provided a generator to power the lighting and music. Joining the two Ely Rotary Clubs were members of the Inner Wheel Club of Ely, members of the local charity Pos+ability, members and leaders of the Soham unit of the Cambridgeshire Police Cadets, Tesco community staff and some volunteers to whom they are also most grateful.

Linda Neate from Pos+ability commented "For our part I am sure we can keep this interest alive from Pos+Ability and may even be able to get one or two more people in future years if you would like us to continue. Not that it is anything to do with me, but I also believe that this is a fantastic way perhaps for you to consider to get more charities involved. There is something special about helping you to help ourselves if that makes sense. Your organisation of this event is second to none and charities like ours can support you by contributing to the leg work."
Any charity that would like more information on helping us with next year's collection should contact Mike Axford, the Organiser through the website (via the Contact icon).