Investing in Young People
We get a lot of enjoyment and satisfaction from supporting charities and organisations which promote the welfare of young persons.
Canterbury Academy
We support Canterbury Academy's Sports Scholarship Programme which offers financial support to those students competing in sport at a very high level in order to help to meet the high costs of training and competing. The club also donates a prize at the Academy's Annual Presentation Evening.
Canterbury Guides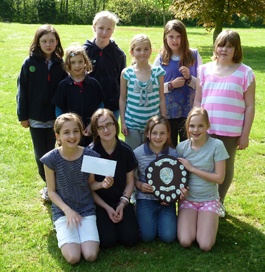 We sponsor a biennial Rotary Guides Challenge at The Guides Centre at Chartham when teams of girl guides drawn from local patrols of Canterbury District Guides compete for the Challenge Shield that the club presented some years ago. There are various challenges that the teams undertake based on the traditions of guiding.
The photograph shows the presentation after a most enjoyable and successful afternoon for both Guides and Rotarians assisting.


The Community College Whitstable
Club members have conducted CV Training and mock job interviews with students from The Community College Whitstable to help to prepare them for the difficult task of seeking employment at the conclusion of their studies.
Joy Lane School, Whitstable
The club organises an annual pantomime trip to The Marlowe Theatre in Canterbury for autistic children from the Oysters Specialist Provision at Joy Lane School in Whitstable. They attend the special "relaxed" pantomime performance specifically designed and adapted for children who are autistic.
The club also provides the children with a summer "Kids Out" event which in recent years has been to Wingham Wildlife Park.
Kent Young Carers Project
The club also takes young carers supported by the Kent Young Carers Project to the annual pantomime at The Marlowe. Young carers are children whose role caring for other members of their family makes normal childhood activities impossible, They enjoy a backstage visit after the show and meet the stars of the show. Club members then escort the young carers to PizzaHut to enjoy a pizza meal.
Photograph shows young carers with stars of the show Ben Roddy and Stephen Mulhern and Club President David Denne with other club members after a performance of Dick Whittington in January 2017.

St. Nicholas School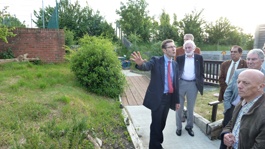 We also support St. Nicholas School in Canterbury which is a special school for pupils aged 4 to 19 years with severe learning needs. The club recently donated £5,000 which was used to renovate the school garden making it suitable for the use of the children and also provided funds for replacement playground equipment for the infant playground.
The photograph shows Head Teacher Daniel Lewis explaining the use of the garden to club members.

Try Angle Awards
The annual Try Angle Awards organised by the Education and Young People's Services of Kent County Council to celebrate the achievement of young people from across Kent is also sponsored jointly with Canterbury Rotary Club.