Lunch - the Speaker today is Dr Sarah Wookey from MSF
Mon 23rd October 2017 at 13.00 - 14.30
Sarah has just returned from CHAD where she has been working for Medecins sans Frontieres there.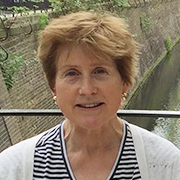 CV
Sarah reports:
"I studied medicine in Belfast, Northern Ireland, and then moved to North Oxfordshire to undergo training in general practice (family medicine). I then joined a partnership in a large local general practice providing NHS care for around 18,000 patients, where I remained for 27 years.
During that time I trained newly qualified doctors to become GPs and developed extra skills in children and women's health, and skin medicine.
After our four children grew up and sort of left home - most parents will recognise that this isn't a quick process and bits of their lives gradually oozed, like amoebas, from their old home to their respective new and more or less independent ones - I started working as a volunteer expedition medic in my spare time, travelling, among other places, to Kenya, Tanzania, China, Madagascar, Transylvania and, most recently, Chad."