President Tony Ashton's Review of 2016/17
President Tony reviews the activities during his year of office 2016/17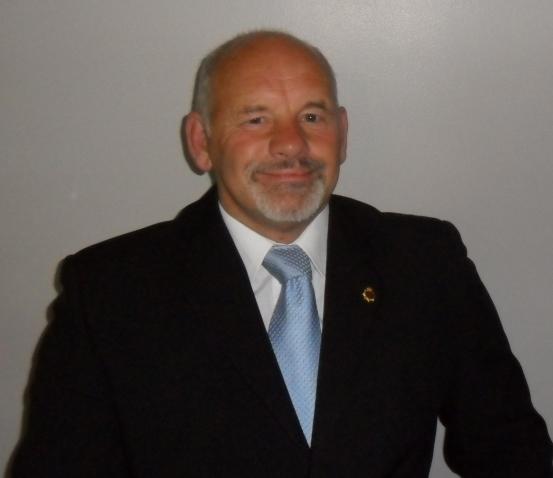 Once again a year has gone by so quickly. Because time becomes more and more precious particularly as we get older. It naturally follows that we want to use our time wisely and be as happy as we can. Everyone has different expectations, different abilities and a different understanding of matters. So everyone's interpretation of enjoyment and happiness naturally differs.
When I agreed to be President of Blaize. I was looking forward to the challenge and responsibility. Clearly it was also something I felt that I wanted to do. Like many people before me. The first thing that struck me was the enormous amount of good will and support that came my way from members of Blaize and the organisation generally. It was a nice feeling to know that I was surrounded and supported by people that were going to make it work. The enthusiasm, skill, experience and work of Blaize members allowed me to preside over a very rewarding year which saw our club make a positive difference to peoples lives both locally and abroad. It became more of a pleasure and enjoyment as time progressed and it made me happy. The events that we engaged in, the people we met, our speakers and charity partners filled the year with interest, fun and most importantly with a sense of doing something worthwhile with our time.
The annual charity golf tournament at Ilkley golf club provided our club with some funds to distribute to worthy causes once again. We are grateful to Ilkley Golf club for there participation in this prestigious event. We are grateful for the sponsorship and participation of so many good people that make it happen. I must congratulate Derek O'Hearne for his excellent work in organising the event once again 26 years on from his first one. I also include all those people that supported Derek in putting it together to make it a success.
We have had grants from other sources which were received with open arms that paid for dictionaries for school children. Alan Arthur successfully applied for district grants and stepped in without hesitation when our treasurer Mike was incapacitated.
I was extremely pleased and proud to be associated with John Barrow when he received his PHF from district at conference for his tireless work with the Bradford Schools Drug Prevention Initiative and other charity work over many years. Well deserved John.
I was again extremely pleased and proud to be associated with the district award for the environment. Awarded to Alan Morrell and our club for Alan's initiative with tree planting.
Our third award from the board of directors of Rotary International was a complete surprise having achieved the highest member retention rate over 3 years. Although on reflection given the stability of our club it should have been anticipated.
It is important to emphasise that we are all Rotarians for the things we do and not for the awards we are given.
We have been fortunate to be able to support a number of charities in different ways. By financial support, by organising events or physically participating in projects, by providing moral support and backing where appropriate. I personally have represented the club at district events, visited local charities and assisted with street collections etc. along with members of this club.
John Waterhouse and John Watson have done a remarkable job with youth, children and the community. Robert Askew has kept our social life alive with his efforts. The presidents social event at the Bradford Golf Club was an enjoyable evening and so was District Conference in Scarborough. Our forthcoming hello/goodbye garden party is something to look forward to and our thanks to our hosts John and Judith for there invitation not forgetting their helpers.
I was proposed into Blaize Rotary Club by Dr Keith Howard several years ago. So it was genuinely a great pleasure for me to be able to welcome Keith back to our club during my year as president.
I want to extend my thanks to Mike Clewes as treasurer and website manager, Geoff Brown for his assistance as secretary. Members of council for their advice and guidance. Without exception my thanks to every single member of the club for the unwavering support and guidance that has made this year a success. I also thank Manoj Joshi PHF our Assistant District Governor for his personal guidance and support.
Looking to the future I see that we have a sound team leading us. David Burrows has finally decided that it's the right moment in his life to take his proper place as president and I am so pleased David will lead us in two or three years. David is well qualified to do so John Barrow will become president elect which is most appropriate after receiving a PHF. John is also well qualified to lead the club again. Graham Robinson will be our new President for 2017-18.
Graham is a competent, experienced person and Rotarian. He is a good and affable man and will lead this club to further success. I have no doubt that Graham's experience as a long standing member and past president with his foresight will help to fine tune our club to meet the demands of an ever changing society in the year to come. Graham has inspired me through this last 12 months. We have had a lot of humour.
Our leadership team for the future is excellent and they will have my full support going forward and I am sure the whole club will continue to prevail in the same manner supporting and guiding each other and our leaders.
I personally have had a very enjoyable and satisfying time during my year as president and I would commend the job to anyone who seeks it.
Tony Ashton
President 2016-17.
Bradford Blaize.
Rotary Club, District 1040.