Enter A Soapbox Now
Join the Fun! Thrill the spectators! Build your own soapbox! Apply for an Entry Pack to the 2018 Rotary Club of Billericay Soapbox Derby.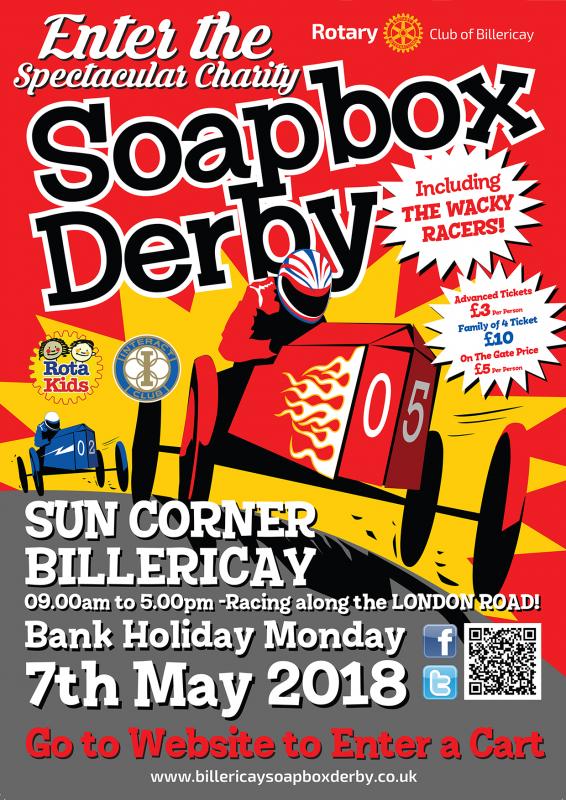 Rotary Club of Billericay
2018 Soapbox Derby -



Application for an Entry Pack

The Rotary Club of Billericay Soapbox Derbys in 2016 and 2017 were highly successful, raising significant money for charity. Thousands of people had a great time.
The Entry Fee is unchanged from last year at £55 (non-refundable) per soapbox including postage and packing, with an expectation that every team will raise at least £100 in sponsorship for charities supported by Rotary.
If you would like to ENTER the next Soapbox Derby in May 2018, then please click on the icon below to go to a page where you can leave your details and an Entry Pack will be posted to you.


Or, either click on the website address below,
or copy and paste it into your Browser.
If you have any query whatsoever, please contact us by clicking on the "Contact Us" button below,

or by telephoning Mike Sinclair on 07836 207888,
or write to him at:
Buttsbury Lodge, Stock Road, Stock, Essex, CM4 9PJ
100% of ALL Profits raised will go to Charities supported by Rotary including:
Local - Local Schools, Barrow Farm Riding for the Disabled & Little Havens Children's Hospice.
International - Médecins sans Frontières (Doctors without Borders), Chernobyl Children's Life Line and Rotary Foundation – End Polio