Dictionaries 4 Life
Ossett students receive Dictionaries 4 Life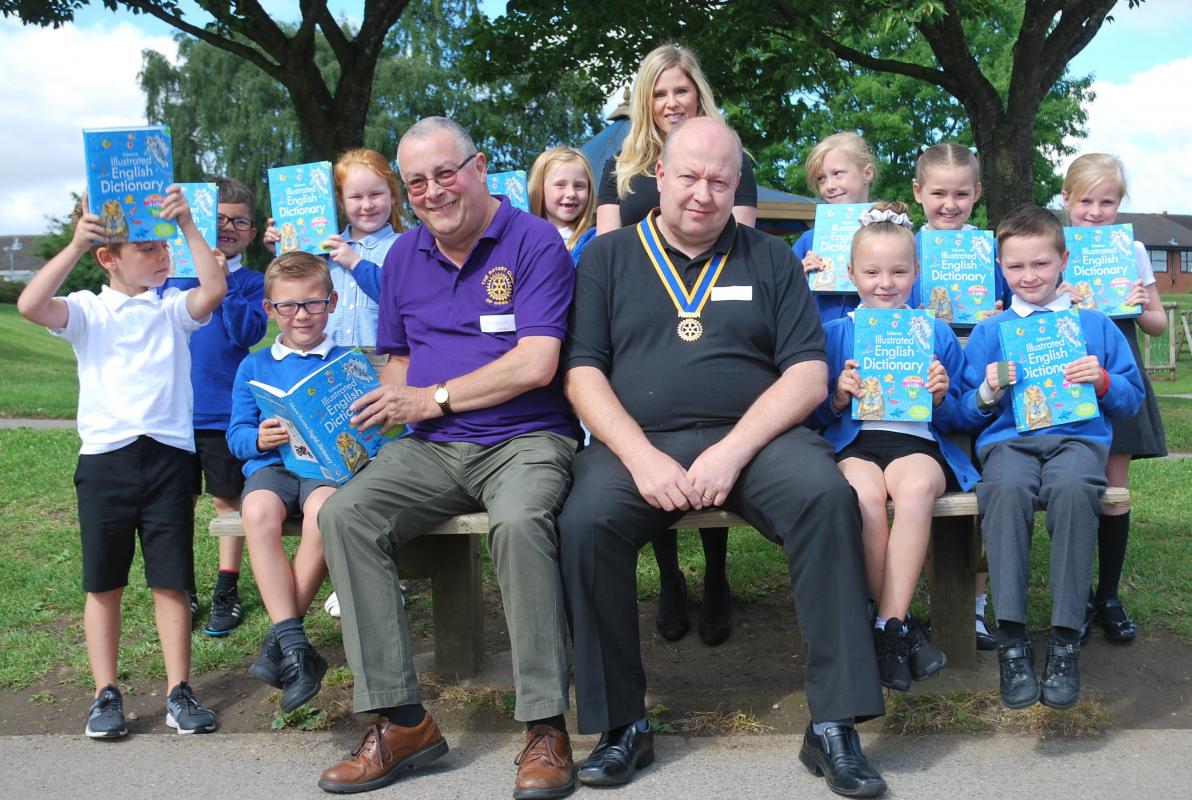 Ossett students receive Dictionary 4 Life
All Ossett year 2 students will receive a dictionary from the Rotary Club of Ossett to mark the end of their Key Stage 1 (infant) education and the beginning of Key Stage 2 (junior).
333 students in total will receive dictionaries as part of this project. The dictionaries will be presented to students by Paul Tinker 2017/18 Ossett Rotary Club President and Tony Sargeant Ossett Rotary Club Young Generation Spokesperson. The dictionaries are for the students to take home and use throughout their educational development.
Rebecca Peace, headteacher at South Parade Primary School said "Staff and children at South Parade are extremely grateful to Ossett Rotary Club for the kind gift of the school dictionaries for our Year Two pupils. As spelling is a key focus for us next year, they will really support our children with developing this key skill. Thank you."
Ossett Rotary Club have raised the funds to pay for these dictionaries by various local events.
Dictionary4Life is a Rotary International for Great Britain and Ireland project, to supply primary school children with their own copy of an Illustrated Dictionary.
The Usborne Illustrated UK Standard Edition Dictionary 4 Life comprises 1,000 illustrations, 10,000 entries and 20,000 definitions printed in full colour.
The Rotary Club of Ossett work closely throughout the academic year with Education Ossett Community Trust (EOCT). Providing a variety of educational and personal development opportunities to a variety of students.
Ossett Rotary Club are looking for men and women of all ages and backgrounds to join either as volunteers, members or both. You can use your time, talents, professional skills and energy to improve the lives of people in our local communities and around the world. You can enjoy business networking, personal development, meeting new friends, having a great deal of fun and experiencing the fulfillment that comes from achieving something worthwhile.
The following schools are involved in this project: Dimple Well Infant School, Flushdyke Junior and Infant School, Gawthorpe Community Academy, Highfield School, Holy Trinity C of E (VA) Primary School, St Ignatius RC Primary School, South Ossett Infants Academy, South Parade Primary School and Towngate Primary Academy.
Notes
For more information: Sarah Haigh EOCT Coordinator 07826 893363 shaigh@educationossett.co.uk or Tony Sargeant Rotary Club of Ossett tonyinossettrotary@gmail.com
Image – a selection of South Parade year 2 students pictured with their dictionaries and Tony Sargeant and Paul Tinker of Ossett Rotary Club and Rebecca Peace, headteacher of South Parade Primary, Ossett.