Club Speakers 2017/18
Club Speakers 2017/18. The Club Speaker finder is club secretary Paul Barnes
Rotary Club of Birstall Luddites
CLUB SPEAKERS 2017/18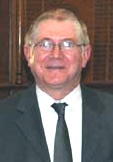 The Club Speaker finder is club Secretary Paul Barnes
Speakers 2017
Mon 17th July Tony Noble - Local Artist.
Mon 31st July John Broadhead - Battle of Passchendaele.
Mon 7th Aug Margaret Arthurs - How I became a dentist.
Mon 4th Sept DG Robert Morphet.
Mon 25th Sept PC Trevor Brown.
Mon 2nd Oct Martin Simpson - Birstall Luddites.
-- ----------------------------------------------------------------------------------------------------------------------------------------------
Rotary Club of Birstall Luddites
Club Speaker Tony Noble - Local Artist July 17th
Tony visited the club and gave a talk about his life as a local artist.
Tony Noble is an artist living and working in Batley, West Yorkshire; his studio is in Redbrick Mill. He has worked as a primary school teacher at Batley Parish School and, after retiring, now works as a full-time artist.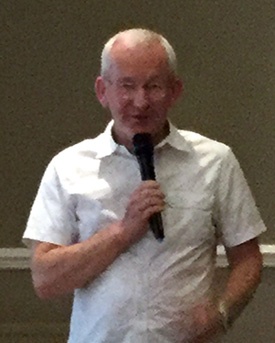 His art work has been exhibited in many galleries over the years including The Royal Academy Summer Exhibition, London - 2015.

Tony talked us through some of his work which included paintings of well known buildings and areas in the Batley area. His has a fascination about finding ways to represent
the detail of surfaces like
bricks, stones, water, glass etc. He said that many of his paintings have taken him hundreds of ours to complete and it must be said that the quality of his art work is astonishing. Visit http://www.tonynoble-artist.com/Home.htmland you I'm sure you will agree.
Tony took questions from the club.
President Helen and Paul thanked Tony for his talk.

Tony took questions from the club.

President Helen and Paul thanked Tony for his talk.
LINKS Tony Noble Gallery
------------------------------------------------------------------------------------------------------------------------------------------------
Rotary Club of Birstall Luddites
Club Speaker Rotarian John Broadhead - Ypres / Battle of

Passchendaele

July 17th 1917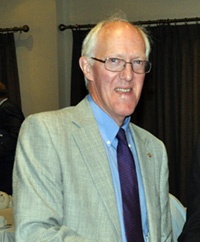 "On the hundredth anniversary of the Battle of Passchendaele, Rotarian John Broadhead gave a talk on the history of the ancient town of Ypres and the part it played in the First World War.
He described the major battles fought there, the strategic importance of the town and the casualties suffered by the participants. Approximately one quarter of all the British and Empire casualties of the war were incurred in the defence of the city which was completely destroyed by shellfire. He explained that at the end of the war Winston Churchill proposed that the town should be left in ruins as a monument to the destruction of war but it was decided by the citizens of the town that German reparation money should be used to restore the town to its pre-war appearance."

President Helen thanked John for his talk which gave information for the 100 year remembrance taking place in Ypres and the Tyne cot cemetery by British and Belgium Royalty, army and political leaders with relatives of those who fought and died in the battle of Passchendaele
LINKS The Ypres Salient Battlefields Belgium
LINKS - Battles of the Ypres Salient: Introduction
------------------------------------------------------------------------------------------------------------------------------------------------
Rotary Club of Birstall Luddites
Club Speaker Rotarian Margaret Arthurs. - How I became a Dentist.
Club speaker for the meeting was our own Rotarian Margaret who gave a talk on
"How she became a Dentist"
Margaret is Batley born and passed for Batley Girls Grammar School.
On taking A levels Margaret was unsure of her future career but a visit to Peter Hamlins dental practise was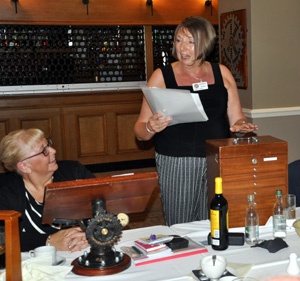 the beginning of her thoughts to be a Dentist. With advice going against her being a dentist made Margaret more determined and on achieving 4 A levels in Aug 68 Margaret enrolled for 4 years at Manchester University studying dentistry together with 22 men and 8 ladies.
Margaret told of her first year and having to buy a skull which she named Fred. The first year included Anatomy with funny stories of her experiences.
She talked about Physiology and worked with dead animals and a frog that wasn't dead.
In her 2nd term she worked doing PMs which led to her stopping smoking on seeing the results of smoking.
Margarets parents had to buy her a dental tool chest which Margaret brought along to show us.
Margaret talked about her first experiences giving anaesthetics and work with dentures the patient not paying but giving presents.
In Dec 1972 after 4 and half years Margaret qualified. She moved around the country but with a child and being divorced returned to Batley and bought Peter Hamlins practise in 96.
Margaret retired 18 months ago after 43 years in the job.
Margaret talked about her dental tools and how now they would have to be cleaned by Autoclave sterilisation. Margaret took questions on a range of dental issues.
President Helen thanked Margaret for a very interesting talk.


.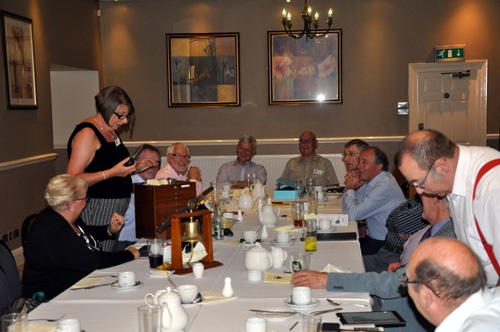 Margaret showing her dental tool chest
----------------------------------------------------------------------------------------------------------------------------------------------

Rotary Club of Birstall Luddites
The annual visit of 1040 District Governor - Robert Morphet 2017/18.
Robert visited Healds Hall on Mon 4th Sept for a joint meeting with the Rotary Club of Dewsbury.

Robert is a member of the Rotary Club of Bradford West where he joined 31 years ago. He is a funeral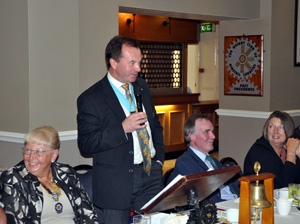 Directer, he worked 21 years as an embalmer and then bought the business.
At Bradford West he was a member of the membership committee he introduced 10 members but only 3 stayed on.
He has been Treasurer twice and President twice and 7 years ago he was awarded the PHF.
Robert talked of his big moment when he was helping feed the homeless on Dec 23 during storm Barbara.
A tent couldn't be raised and a homeless man said it was ok he was used to being outside. The man then gave Robert a choc bar even though he had nothing. This impressed Robert and he never forgot and he found out that this man died 3 weeks ago so he had been to Dominics funeral and spoke and put a choc bar on his coffin.
The short life had given Robert a special moment and changed his life.
He joined the area membership committee. He recently visited Sandiago and has 3 focus points Membership, Polio and Social Media. He raised 18K when he ran the Edinburgh marathon this is raised to 30K with Bill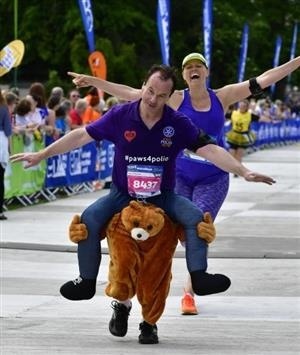 Gates help.He talked of members who cannot make meetings but can still be Rotarians.
He talked about a special moment with President Helen at Fairfield school.with a student called Lara. Special moment for Helen also as she introduced Lala to Robert.
President Helen thanked Robert for his visit.



1/6/17 DGE runs Edinburgh Marathon in aid of Polio eradication; District Governor Elect, Robert Morphet says he ran wearing a bear suit but it looks as if the bear was carrying him! His efforts have raised £11,000 so far.
Click on the link to read more, and add to the total if you wish.
LINKS Roberts BLOG
-------------------------------------------------------------------------------------------------------------------------------------------
Rotary Club of Birstall Luddites
Club Speaker - PC Trevor Brown - West Yorkshire Police - Mon 25th Sept.
Trevor visited the Club and spoke about "what is going on in the UK Police force,"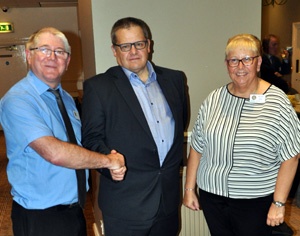 The club were scheduled to visit Trevor at Carr Gate Police Centre on the 18th Sept but due to a terrorist event in London at Parsons Green tube station the national security level was raised to critical and so the outside
visit had to be cancelled.
Trevor has been in traffic for 11 years and he now has to do all aspects of policing. He talked about world terrorism
Trevor reassured that counter terror in the UK is the best in Europe and that the critical status lead to bobbys on the streets with guns to give reassurance to the public.Trevor said as police they asked themselves what they had missed.
Trevor spoke of the armed police officers and about the 8 mins response to the Borough Market event. He said if this happened outside London that it would probably not have been 8mins due to the stretched resorces of the police.
Since Teresa Mays budget cuts in 2010 police numbers have reduced from 5000 to 4000.
Trevor talked of how we need to integrate more with communities and the monitoring of suspect surveillance.
Trevor now asked the question what does society expect from the police moving forward to police the uk
if it cant do everything what is it not going to do.
Trevor took questions from Rotarians and he was thanked by President Helen for his visit.
Trevor said that he would try to rearrange the Carr Gate visit into the new year.
-------------------------------------------------------------------------------------------------------------------------------------------------
---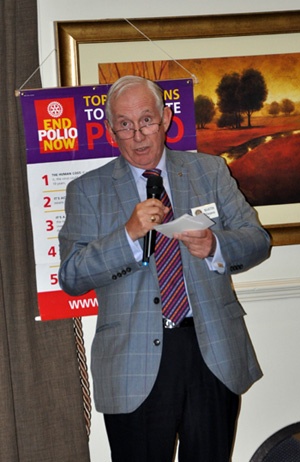 The evening meeting centred around Rotarian Robert Jacksons Frugal Meal to raise funds for
"End Polio Now" Robert talked about the current polio counts of Pakistan and Afganistan no cases. and Nigeria 2
cases. He also explained to the club his initative with Polio Pals making small dolls.
The meal of soup sandwiches and chips plus a raffle helped to raise funds for the ongoing campaign
Robert organised Rotarian Martin Simpson as speaker for Martin is now a member of York Ainsty Club after relocating to Green Hammerton. Martin was the founder President of the club which was Chartered in 1988 started by Heckmondwike and Batley Clubs. Martin talked of the founder members still attending the club John Sugden,
Jim Pilkington, John Keen, Steve Gooder, Robert Jackson Martin made amusing quips about Keiths email signature Johns slow eating
Robert J never looking any older and Ians tax return. plus funny stories.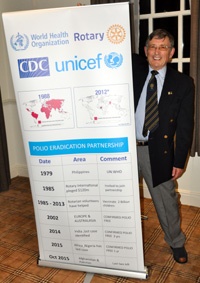 He thanked the club for making him a Life Honorary Member a status he said he greatly values.

Robert Jackson presented Martin with the signed club banner and President Helen thanked Martin for his
talk and expressed how he was missed at the club for his knowledge experience and advice.

At this point another founder member John Sugden gave the club an
insight into the start of the club in 1988 .
John talked of Martin being the founder President who did all the officers jobs to make sure the club got off the ground and believes that if it had not been for Martin there would not be a Birstall Luddies.

Big thanks to Robert Jackson for leading the End Polio Now / Frugal meal initiative in District 1040.
Watch the video The Worlds Greatest Meal this highlights the importance of Rotarys push to end Polio.

LINKS End Polio
LINKS One last push
LINKS The Worlds Greatest Meal
---------------------------------------------------------------------------------------------------------------------------------------------
---