Lunch Speaker: Denise Farman, North East Lincolnshire Women's Aid
Wed 19th July 2017 at 13.00 - 14.00
A talk about the Women's Refuge in Grimsby, the work of the charity in our community and how we can help.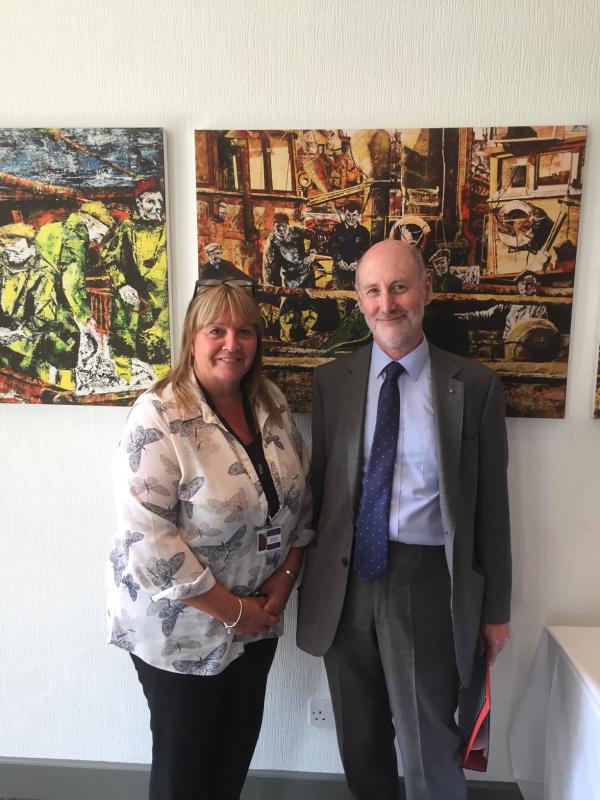 President Michael Bull's nominated charity for special support in 2017/18 is North East Lincolnshire Women's Aid. On Wednesday 19th July the club was visited by Denise Farman, Senior Manager at the Women's Refuge who joined us for lunch and gave a talk about her work.
Domestic abuse in N E Lincs is 14% above average and in the UK 2-3 women die at the hands of violent men every week. The refuge is a safe house where women and children who are fleeing from domestic abuse can live free from violent and controlling partners. The refuge address is confidential. Women can choose to stay in the refuge or may want to go out of town to another refuge for safety.
The refuge was established in 1977 and accommodates around 150 women per year. Women stay in the refuge for one month up to a year. Trials for rape and attempted murder can result in long drawn out court cases which means sometimes a longer stay is necessary.
Women's Aid's main work is keeping the female victims in these awful situations alive, help get them out of the violence, start a new life and move on (be that in college, a new home and/or a new job).
NE Lincs Women's Aid also runs an outreach program which enables the charity to help more people. They now aid 600 women and men in our community each year. This program enables some women to stay in their homes and have their partners removed. Denise was keen to point out this program also supports male victims of domestic abuse in their homes.
Denise explained that the demand for the refuge and their services is growing and they need more money to keep these services funded. She said that the unseen victims of domestic abuse are the children of the families affected. She explained that while the charity receives government support for the women in the refuge, children are not funded and at any one time there can be twenty to thirty children accommodated with their mothers. In July 2017 there were 15 women in the refuge and 27 children. Denise explained that she is fighting to get the children on the government's agenda and that helping to support the children is where more funds are really needed.
How we can help: making a financial donation to the charity, or by taking items to Women's Aid charity shops on Grimsby Road and Hainton Square. Both shops can take donations and they both sell clothes, bric-a-brac, shoes, toys. Hainton Square has a Furniture and a Book department. The Furniture department accepts items that are in good condition (with any relevant fire safety labels) and they can pick up furniture - they also offer a delivery service. They do receive money for 'rags' - if you are throwing out old clothes, shoes, bags, belts that are worn out, stained, have holes, etc, the shops can still accept them. Both shops receive money for collecting used/empty printer cartridges. The shops even receive money for recycling empty Biscuits wrappers, cleaning wipe packets, trigger guns and/or Deodorant Cans – these can be collected at both shops, as can old or broken jewellery and mobile phones.