Hangloose at Eden
Wadebridge Rotary Club provides adventure for Wadebridge School's new Sixth Form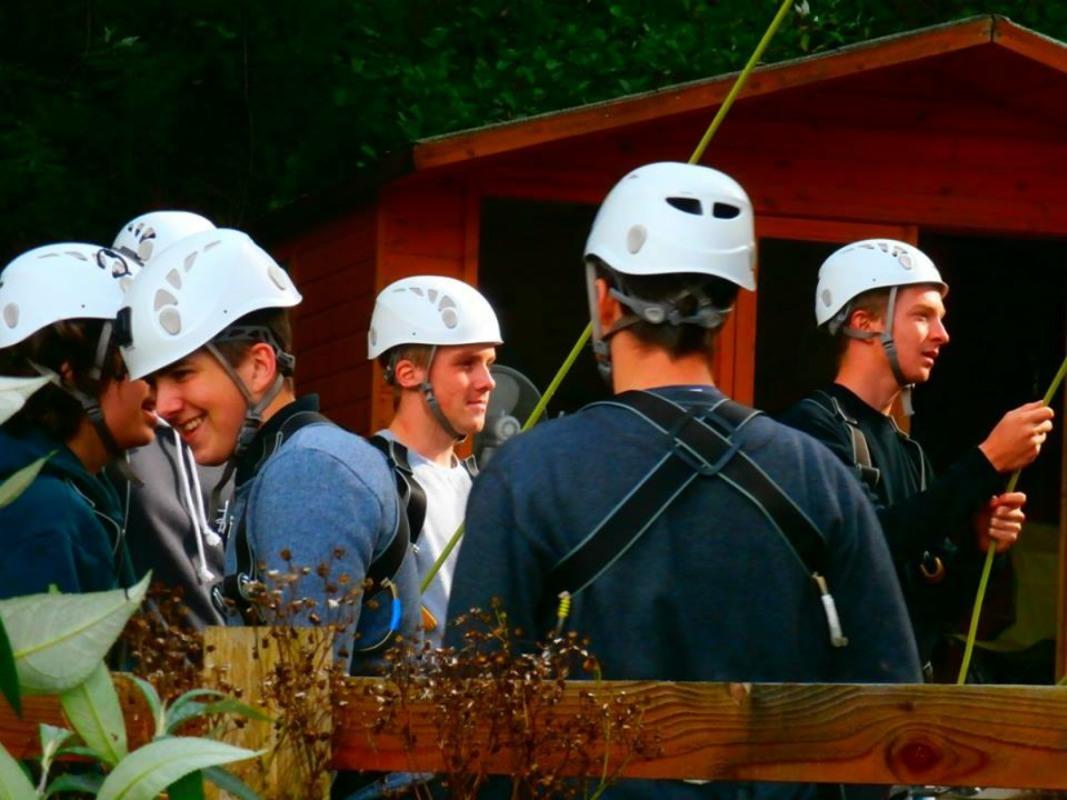 Hangloose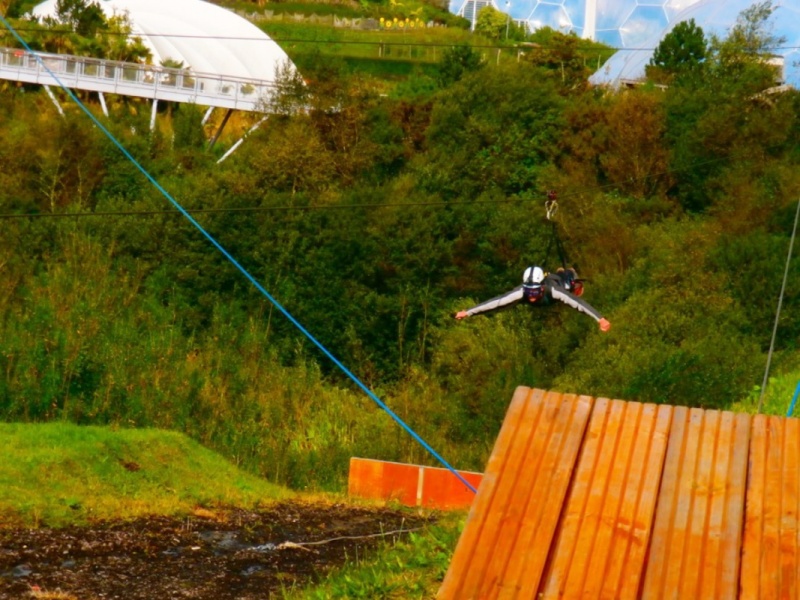 Scene: a meeting of the Youth Committee of the Rotary Club of Xxxxxx.
"What's the best thing we can do for our young people?"
"How about we strap 'em up in harnesses and launch 'em off the edge of tall buildings?" "Great idea, and we could even attach some of them to ropes first." "Now that's health and safety gone mad…"
That's not how it happened in Wadebridge Rotary Club, I assure you, but nonetheless 43 students from Wadebridge School did find themselves leaping off tall buildings. In this third year of our support for sixth form team building, we moved the event to Hangloose at the Eden Project.
If you have formed an impression of worthy educational activities with an environmental bent, stop right there. The event was at Eden, but not of Eden. Hangloose operates around the edges of the Eden Project, including the airspace above it. It operates a number of activities loosely describable as adrenaline-rich. Primarily there is the Skywire, a half mile zip-wire starting 100 metres above ground, the length of which you zoom, suspended horizontally face down, in about 40 seconds. I defy you not to think of Superman — though the one arm forward classic pose is frowned upon.
Then there's the Big Air, where you jump onto a bouncy castle the size of sitting room. The jump from the low platform is easy, no more than one or two metres. The middle platform is five metres, a bit more daunting. The top platform is eight metres, enough to cause people to pause and take stock. Not all of them — some were hurling themselves gleefully into thin air.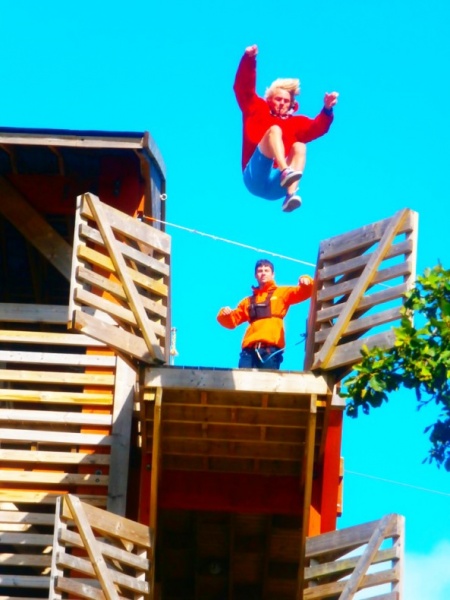 Next to Big Air is The Drop. You step off a platform ten or twelve metres up with solid ground below. Fortunately, you are first attached, via a harness, to a descender mechanism which allows free fall for two metres, then slows you into a safe landing. The way not to do this is to stand on the edge of the platform and look down. This enables thinking, and thinking is not what is required; it keeps you standing there, just looking. The best way, as one of the young women said, is just to walk through and off the edge non-stop.
Round the back of the same tower is a climbing wall. There are three sets of hand holds and each climber is anchored by two students holding the safety rope, good for building trust and team work. One end of the wall is clear, for abseiling down.
The sixth apparatus is Gravity, a three person swing with twenty metre steel ropes. You are harnessed securely on to a steel tube, then winched up until the ropes are horizontal. The operator then releases the swing and Newton's laws of motion take over. (Note, you don't have to be a physicist to ride this.) It's most fun when a student is given charge of the release rope. "One, two, three," she counted, "four, five…" Laughter. Release. Shriek!
I am impressed by the attention to safety procedures. Everyone is hooked to safety lines before being attached to the apparatus. I watched how the Skywire worked at both ends, every time the same. This, and the number of instructors it requires, is probably why the prices look high. Plus the vast number of harnesses, helmets, goggles and carabiners. Worth it, I'd say.
The 43 young people had a great time. So did the staff who went, all of them throwing themselves about with as much abandon, generally, as the youngsters. As Debbie Chick of the sixth form staff wrote to me: "Thank you so much for yesterday – it was lovely to share the day with you and we are truly grateful for your continued support. The students (and staff!) had a lot of fun and did many things they didn't know they were capable of – we are very proud of them. This is the link to our Facebook page which has more photos of the day. https://www.facebook.com/WadebridgeSixthForm/ ."
As for me, and my bad leg, I restricted myself to the Skywire. Brilliant! Call me Superman. Or perhaps don't…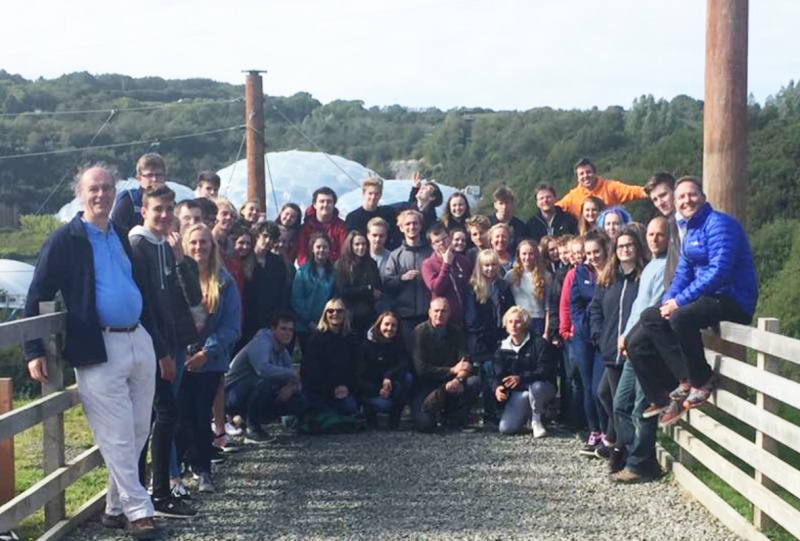 Photos courtesy of Wadebridge School. Report by Kevin Smith