Our Rotary Christmas Collection
Santa will soon be in your area on his famous sleigh. He and his merry elves will begin their Christmas round of collection for local Charities on 1 December.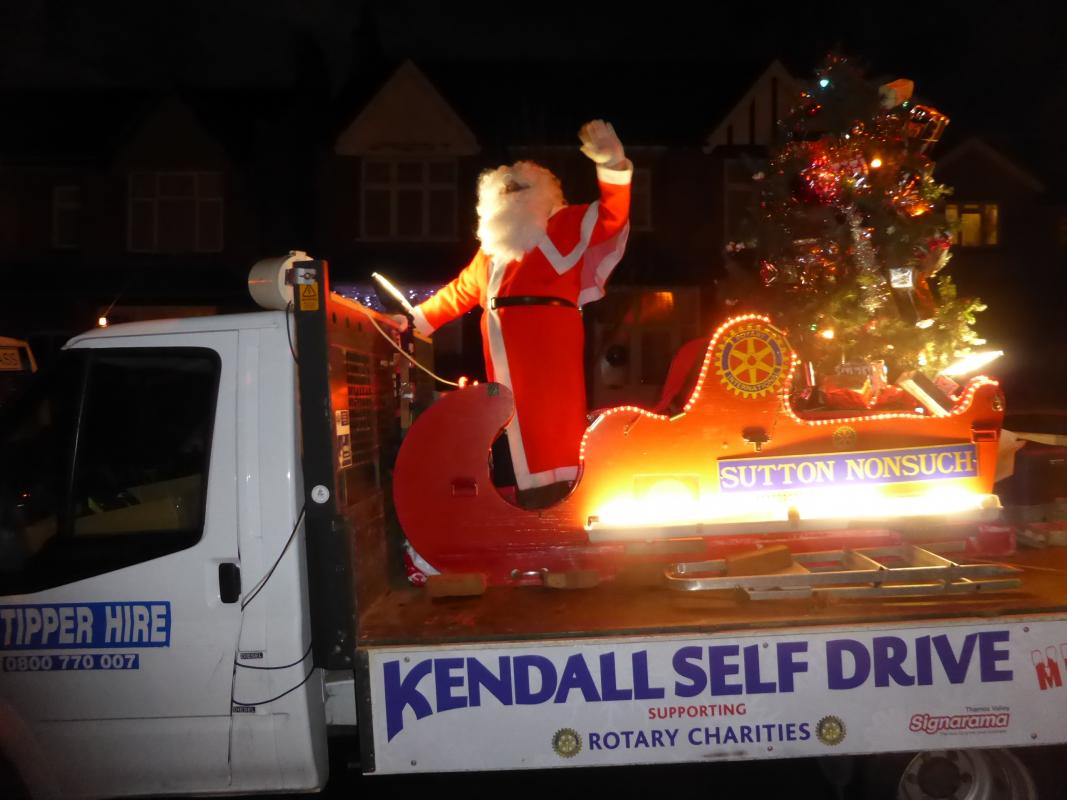 Santa will be travelling around the streets of North Cheam, Worcester Park and Cheam Village. Young and old will be able to wave to him as he sits in his sleigh greeting everyone as he passes your house. Once again this year Nonsuch Rotary is collecting for local and Rotary charities. Over the past 30 years, with your help, our Club has collected £250,000 for charities.
So when will he be coming down our street you ask?
Well here are the dates and areas that Santa will be visiting in the early evenings this December.
Monday 4 – Sparrow Farm Road, Tudor Avenue, Balmoral Road, St. Claire Drive and the Stoneleigh Avenue area.
Tuesday 5 – Esher Avenue, Gander Green Lane, Hamilton Avenue, Windsor Avenue and the Henley Avenue area.
Thursday 7 – Palmer Avenue, Wordsworth Drive, Church Hill Road, Priory Crescent and the Priory Road area.
Friday 8 – Lumley Road, Chatsworth Road and the Abbotts Road area.
Monday 11 – Woodlands Avenue, Ardrossan Gardens, Alsom Avenue, Vale Road and the Elmstead Gardens area.
Tuesday 12 – Langley Avenue, Dorchester Road, Buckland Way, Charminster Road and the Boscombe Road area.
Thursday 14 – Green Lane, Browning Avenue, St. Philips Avenue, Brinkley Road, Washington Road, Caldbeck Avenue and the Longfellow Road area.
Santa will also be seen at Sainsbury's at North Cheam on Friday 1, Saturday 2 and Sunday 3 December and at Tesco's on the Sutton By-pass on Friday 8, Saturday 9 and Sunday 10 December.
Nonsuch Rotary Club sends season's greetings to everyone and we hope that you will welcome Santa and his Elves as they pass your way in the coming weeks.
For more details contact - john.mitchell2043@gmail.com