Rotary Club of Fareham Collect for Hurricane Relief
Street collection Hurricane Relief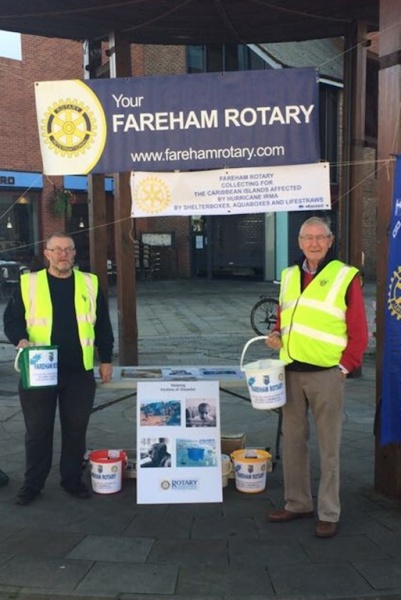 25th September 2017
Rotary Club members collect in Fareham for hurricane relief.
A third of the membership of the Rotary Club of Fareham were present in Fareham town centre to collect funds for the relief effort following the devastating hurricane, Irma, in the Caribbean.
We collected £211 from that collection and have boosted that from our funds to £590 for the purchase of a Shelterbox - emergency aid in a box. Shelterboxes was a relief effort started by Rotary but now exists as a separate charity. In addition £121 will go to the Rotary in Great Britain & Ireland Caribbean Disaster Fund.
Each of the Shelterboxes contains the aid needed in emergency situations around the world. Typically it will contain a tent, items for water purification and cooking, blankets and clothing for 12 people. Two thousand boxes have already been sent to the Caribbean and Rotarians on the affected islands will be working with the Shelterbox charity to ensure that the aid gets to where it is needed most.
President of the Rotary Club of Fareham, Bob Marshall, said "I am grateful to our members for organising this collection at short notice and to the residents of Fareham who always respond with such generosity at these times. Although some of these islands appear to be wealthy, there is also real poverty and it is these people who will benefit from our donations."
Members of the Rotary Club of Fareham always respond promptly to emergency situations when they occur as may be needed. It is felt that if everyone does something towards the relief efforts it will combine into meaningful support that will help those affected.
Photos L-R show: Fareham Rotarians Mike Hurley & Dick Taylor collecting in the town centre.