102 trolleys for the Foodbank
Our 2 year partnership with Sainsbury's and Clevedon District Foodbank
On Friday 13th October, Portishead Rotary Club celebrated 2 years of partnership with Portishead Sainsbury's and the Clevedon and District Foodbank.

Thirteen million people live below the poverty line in the UK, with individuals going hungry every day for a wide range of reasons, loss of a job, family break up, benefit delays to receiving an unexpected bill on a very low income - and more.

In the UK in 2016 / 2017, foodbanks provided three day emergency food supplies to 1,182,954 people in crisis. We all know that stopping hunger is about more than food alone, which is why foodbanks work with those in need to provide a range of services like financial advice, provide contacts who can provide professional help and support like job opportunities including volunteering, housing, benefits, individual care workers and more, in other words helping people to break the cycle of poverty.

It was 2 years ago that Portishead Rotary Club approached Portishead Sainsbury's to discuss setting up a foodbank collecting box in their store. Discussions didn't take long and in mid October 2015 the activity started. All items are cleared fortnightly by Rotarians and taken to the Clevedon and District Foodbank in Clevedon where they are sorted into food hampers providing three days essential supplies to those in need in the area.
Rotary President John Sleight says 'It is a three way partnership, each party playing a key role in ensuring that the food and other essential items donated by the generous shoppers at Sainsbury's reach those who need it most.'

Pauline Rayner, Sainsbury's PR Ambassador says 'We are delighted to see the success that this activity has generated.
Kelly Croxton from the foodbank says '102 large deep shopping trolleys have been filled in the two years which is absolutely amazing, long may it continue'.
... latest update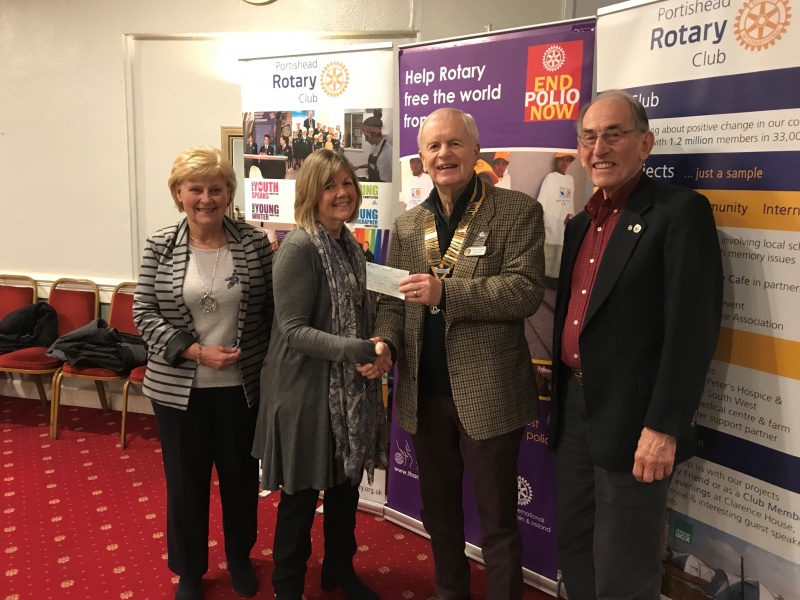 Following a successful Rotary District Grant Application a cheque for £375 was presented to Susan Regan at Club on Tuesday evening 20th March.
Sue, lovely to meet you and we wish you every success with the future of the Foodbank.