Variety Show presented by Mayor Linda van den Hende - Tue 16th Jan 2018
Tue 16th January 2018 at 19.00 - 22.00
A charity fundraiser in aid of our Mayor's chosen charities, First Step, Dementia UK and Havering Volunteer Centre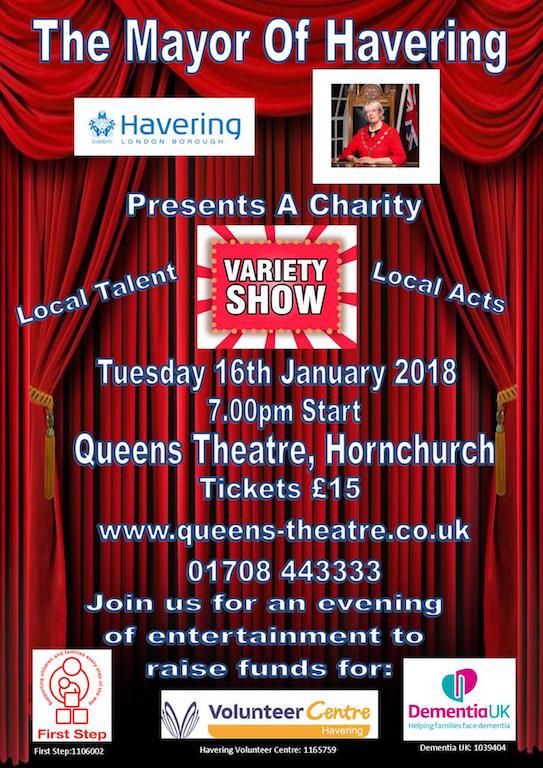 Dear Friends,
Have you thought about your New Year's Resolution yet? How about supporting a charity event this January?
The Mayor of Havering is supporting 3 chosen charities this year which are:
· First Step
· Dementia UK
· Havering Volunteer Centre
To celebrate Havering's talent and support her 3 charities, the Mayor is hosting a Variety Show at The Queens Theatre Hornchurch on 16th January 2018 from 7pm to showcase the wealth of local entertainers we have in our community.
There are a variety of acts ranging from:
· The Royal British legion band opening and closing the Show
· Alex Donald & Lucy Lombard performing songs from The Phantom Of The Opera
· A wonderful singing performance from the very talented Jasmine Larkey
· A beautiful recital from a String Quartet
· Alexandra Hopkins performing a song from the incredibly popular musical stage show Annie
· The superb Que Sera Ladies Choir from Upminster Golf Club
· A Jazz performance from the wonderful Stage Band
· The talented Emily Smith performing songs from the Addams Family
· A spectacular guitar performance from Jonathan Belay
· The talented Ellen Jane School Of Dance
· A performance from Roelof Vorster Piano
· The delightful Decibellas
· A magnificent Irish dance performance from Jade Darby
There are still more wonderful performances to be announced!!
We invite you to join us in a most enjoyable evening of foot tapping entertainment!
Tickets are £15 and can be purchased now from Queen's Theatre Box Office http://www.queens-theatre.co.uk/whats-on/show/charity-variety-show-2018 I have attached a flyer to this email with more information regarding the event, please pass this on to anyone you feel may be interested in attending.
What better way to start the New Year?
If you need any additional information please contact the Havering Volunteer Centre 01708 922214 or volunteering@haveringvc.org.uk and they will assist you further.