Just One Mile is ALL We Ask
Fri 23rd February 2018 - Sat 31st March 2018
We are throwing out the challenge to the public to walk; cycle; row or swim one sponsored mile – yes, just one sponsored mile anytime between 23rd February and the end of March.


Just one mile that's all we ask
Centenary Mile Fund Raising Challenge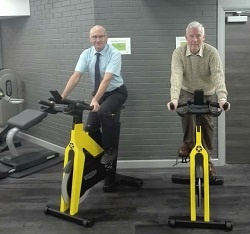 This event is to celebrate 100 years of Rotary in Wales and to raise awareness and funds for the Tenovus "Closer to Home" appeal.
We are asking Rotarians to contact the managers of their local leisure centres and private gyms to plan public events across our District.
During the Centenary our Rotarians have pledged to raise £25,000 to sponsor one of the six treatment rooms which will make up part of the interior of the new mobile treatment unit.
The Wales based cancer charity Tenovus has developed an innovative mobile cancer treatment service so instead of patients having to travel long distances to hospitals for treatment, it can be delivered to them in their local community.
Today, Tenovus run two Mobile Support Units delivering treatment to patients in their local communities in Wales, but are in the process of building a third unit in order to expand their service. Without this extra capacity they simply won't be able to reach the people who need them most.
So, please get involved, contact your local leisure centre and invite the public to come along, complete a sponsored mile, support this appeal and find out more about Rotary and our projects.