Inner Wheel Dinner Dance
Sat 17th November 2018 at 19.00 - 22.30
Inner Wheel are planning to hold our Annual Dinner Dance at Witney Lakes Resort on 17th November, with entertainment by Gus De La Quera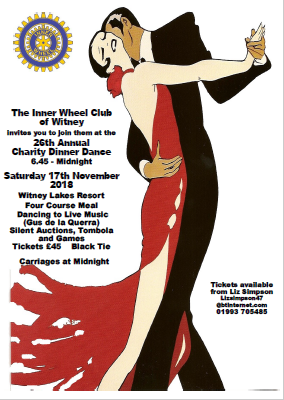 Inner Wheel are planning to hold our Annual Dinner Dance at Witney Lakes Resort on 17th November, and hope that many of you will be able to join us.
This will be our main fundraising event of the year and we will be supporting Maggie's Centre in Oxford, who give support to those diagnosed with Cancer and their families, and ARCh (Assisted Reading for Children), a local charity who provide volunteers to help children in school who are struggling with literacy skills.
We are planning a fun evening with live music from Gus, there will be an Auction, Tombola and Games. We have had a tasting of the menu, prepared by the new Chef, which was excellent, so we hopeful of good food as well. There will be a three course meal with cheese and coffee.
We are very grateful to Chris Moxon, who has helped us immensely by printing the tickets and they are available from Liz Simpson, for £45 each.
Contact details for Liz: lizsimpson47@btinternet.com 019933 705485.
I have attached a poster with details of the evening. Please come along, invite your friends and family, and have fun!
Many Thanks
Shelagh Sheehan