Philip Geddes Award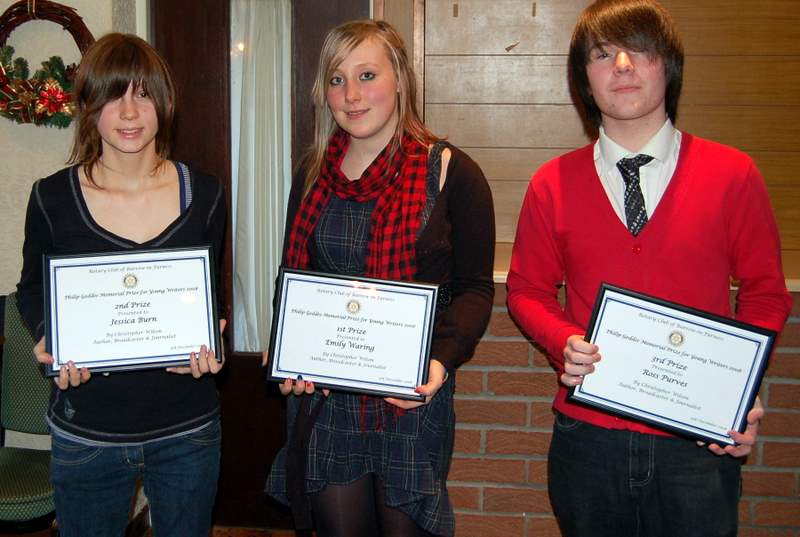 The reviving of the Philip Geddes award has won praise for the club.
The award – in memory of Rotarian Michael Geddes' son Philip, who was killed in the Harrods bombing 25 years ago - was initially for a schools public speaking competition.
Interest from schools waned but it was revived this year with Sixth Form College students asked to produce a written article on how young people are portrayed in the media.
The awards were presented by Christopher Wilson, the renowned broadcaster, author and journalist who edited the Daily Express's William Hickey column with Philip as a member of his team.
He said that Philip's "go-get attitude was the envy of all his companions. He was a journalist with real talent but with that essential quality – modesty.
"He was shopping in Harrods on December 17, 1983 when ordered to leave because of an alert.
"His instinct to find what it was all about also drew Philip to his death.
"That bombing was an outrage against humanity. In Philip's case it was the taking of a golden life full of promise."
Mr Wilson said that bombing was one of the factors that led to prominent politicians, none more so than Bill Clinton, to seek an end to the hostilities in Ireland.
"Peace in Northern Ireland may still be a fragile thing.
What has been achieved has come too late for Philip but it is truly a miracle."
Of the club's award, he added: "This is an uplifting occasion, with young people working in Philip's name. There could be no better way to encourage and enthuse young people in Philip's name."
He told of the Geddes Award at Oxford University, which Philip attended. He said it was the university's principal prize for journalism with some £100,000 awarded to allow budding journalists to follow their own individual projects.
He said that Philip's work had him chasing down leads at the Ritz, the Savoy, the House of Commons – "all the seats of power. He lived some challenging experiences yet his roots were still in Barrow."
The Philip Geddes award, partly sponsored by the Evening Mail and with a trip to London to visit the offices of the Daily Express, was won by Emily Waring (centre of picture). Runners-up prizes went to Jessica Burn (left) and Ross Purves.