Donation to Wadebridge Foodbank
Wadebridge Rotary Club donates to Wadebridge Foodbank, from Wheels 2018.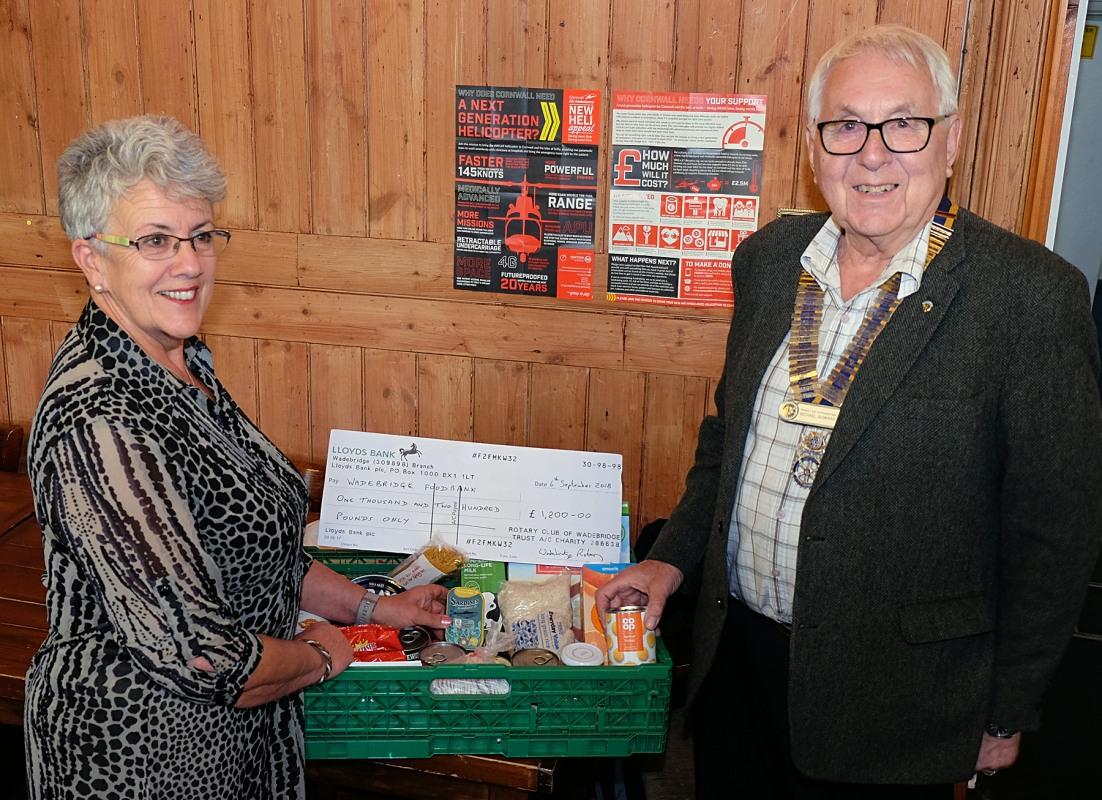 Wadebridge Foodbank benefits from Wadebridge Wheels
Wadebridge Rotary Club President, Mick Goward, had the pleasure of presenting a cheque for £1200 to Jacqui White, the Wadebridge Foodbank Manager. This was one of the major donations from Wadebridge Wheels 2018. Jacqui expressed her delight and grateful thanks for the donation. She also brought along a food box to show club members what is given to local people in need. She spoke about a fisherman who came in distress to the Foodbank in the spring. The weather had been so bad that fishing boats were unable to go to sea for days on end. He had used up his meagre savings, had not eaten for days and had run out of money for light, heating and cooking. This tough, rough hard working man was reduced to tears in front of strangers through no fault of his own. He was comforted and given food, hygiene products plus money from another charity to top up the electricity. A week later he returned to the Foodbank a different man., to say that he would be able to return to fishing later that week. He had a spring in his step. Things seemed to turn around after his initial visit
In the last financial year over 29 tonnes of food was distributed – the equivalent of 420 shopping trollies! 1,269 boxes were distributed, with a 4% increase in people referred to the foodbanks. The equivalent of 3,284 people was fed, bringing the total to 21,462 people. 1,800 meals a week are provided. A crisis can happen to anyone through sickness, redundancy or changes in circumstances
Report by Mick Goward. Photograph by Martin Broadfoot.