Santa's Coming DownYour Way
Are You Ready!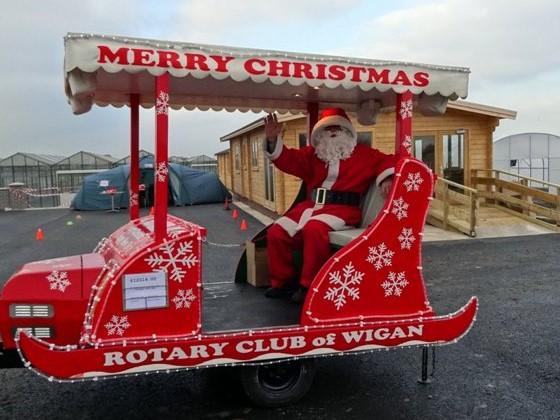 SANTA'S COMING DOWN YOUR WAY
Members of Wigan Rotary Club will again be accompanying 'Santa' around the streets of Wigan throughout December, as well as visiting Asda at Newtown and Tesco on Central Park Way. The Rotary Choir will once again be in the Grand Arcade during the day for a Wigan Town Centre collection on Saturday 8th December.
John Wright, Wigan Rotary Club's President said ' We all look forward to this time of year. Rotarians enjoy seeing the happy smiling faces on children and parents alike. Make sure you know where we are each day so you can be ready and waiting for us. We are so grateful for everyone's generosity and all the donations we receive, many people benefit each year both locally and overseas as a result.' He continued "We have extra venues this year where Santa will be in attendance to talk to the children or if he is busy, Mrs. Santa will join in the fun".
Please see the list of dates when Santa is likely to be down your way, and you can look at the clubs website www.wiganrotaryclub.org Plus you can also follow us on Facebook and Twitter. In addition you can donate to our charity by texting WIGN25 followed by the amount you wish to donate, e.g. £1, £2 etc to 70070
You can donate £1, £2, £3, £4, £5 or £10. All the money you donate goes to us. You may be charged for your text message. Please refer to your network