Radio Bristol "Alive" appeal
The Rotary Club of Portishead has donated £1,000 to the ALIVE charity in support of the BBC Radio Bristol Appeal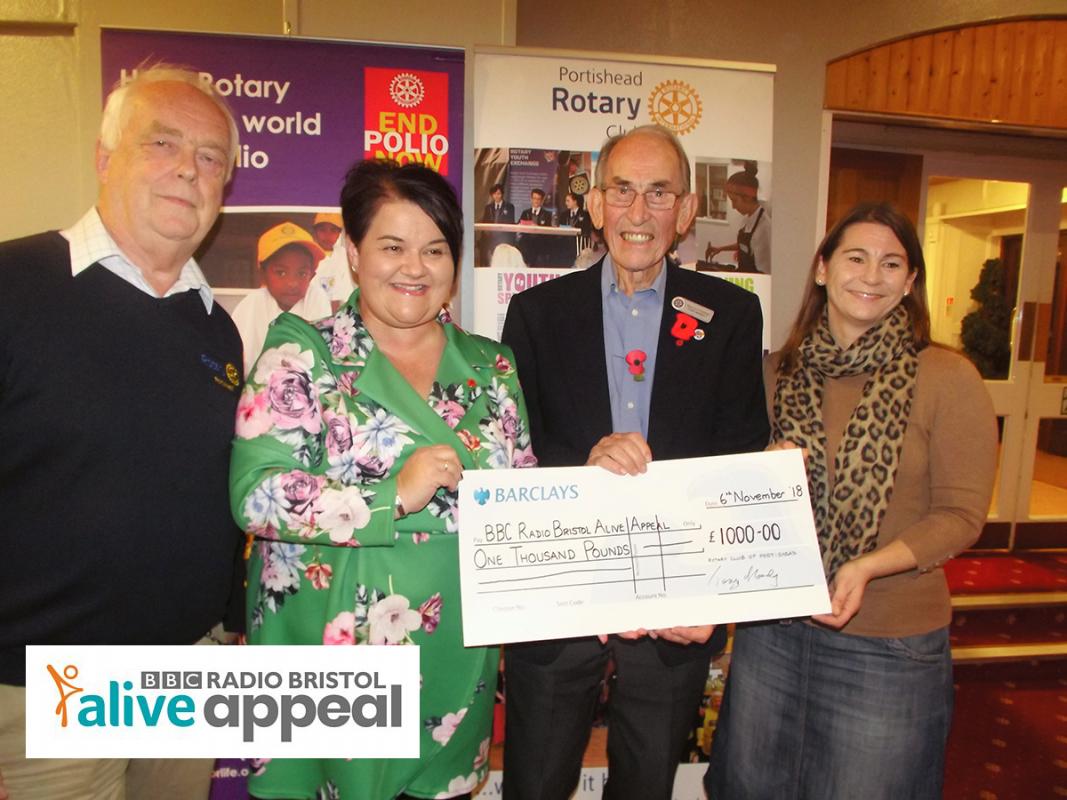 The BBC Radio Bristol presenter Emma Britton receiving a cheque for £1000 from President Tony Mosely towards her BBC Radio Bristol Alive Appeal.
The club are delighted to support Emma's appeal as Alive are a group of very talented people who make a real difference to older people living in care homes and day centres in the Bristol area.
As a club we delighted that Alive perform at our Memory Cafe and they always send people home with a smile on their faces.
Also in the picture are Brian Knox-Little the club's Memory Café Chairman and Isobel Jones Alive Business Development Manager
The BBC Radio Bristol Alive Appeal needs your help to make a difference to the lives of older people across our area. For many older people - loneliness and isolation are a fact of life. Adapting to life in a care home can be overwhelming. People can find themselves feeling alone in unfamiliar surroundings. For those still living at home - day centres provide a crucial link to the outside world. We're working with the local charity 'Alive' to put on activity sessions in care homes and day centres across Bristol, North Somerset, South Gloucestershire and Bath and North East Somerset. The charity uses music, dance, storytelling, objects from the past and touchscreens to spark memories and conversations. They bring joy, laughter and fun to people who may be living with dementia or who have become demotivated, depressed or inactive. We aim to raise £50,000. The money will fund 300 activity sessions and pay for the vital kit which the charity needs to make that time so special. Your support will mean 'The BBC Radio Bristol Alive Appeal' can change the lives of older people who wouldn't otherwise benefit from the work of Alive.