2019 Charity AM/AM Stableford Golf Competition
Fri 2nd August 2019 at 09.00 - 16.00
Penrith Golf Club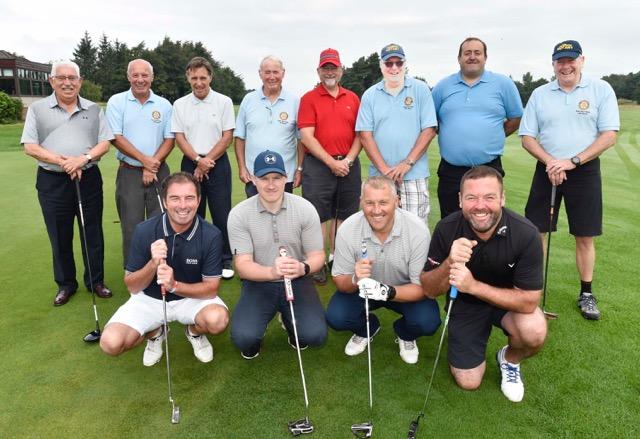 2019 Charity AM/AM Stableford Golf Competition
A Glorious Day At Penrith Golf Club
Penrith Rotary Club's Charity Golf Day was held at Penrith Golf Club on Friday 2nd August. Last year the event was washed out, this year the weather was perfect and the course was in superb condition. Some 160 players from all over Cumbria and from as far afield as Darlington, Lockerbie and Preston competed for the honours. In the excellent conditions it was a hotly contested competition with only a handful of points separating the top 6 teams. The players were very impressed by the great condition in which the course was presented and appreciated the work done by the green keeper and his staff.
In the end it was "Simon Parry's" team (pictured kneeling) from Workington who were the winners with the "Crawford and Company" team hot on their heels. The winners scooped the voucher to play at Gleneagles and the runner up the voucher to play at Dalmahoy – both prestigious courses. The winning Rotary Team was from Barnard Castle who will be presented with the Barclays Bank Trophy.
Fraser Dickinson of Certas Energy (the Tournament Sponsor) provided the vouchers for Gleneagles and Dalmahoy. Main Sponsors were Nilfisk Ltd, Titteringtons Coaches, Robson and Liddle, and Hather Financial Services, and there were 32 other sponsors providing a range of donations and prizes. Alex Buchan of the Penrith Rotary Club in expressing the Club's gratitude to all these sponsors said that it was only through their generosity and that of all the participating players that the event raises money for those in need of our help. He also expressed thanks to Andrew Sowerby the Club Professional for his able assistance with organising the competition.
This charity golf day is the Penrith Rotary Club's biggest fundraiser and this year it did not disappoint with over £4500 (net) being raised on the day. The charities being supported this year were the "Jigsaw Children's Hospice" and "Hospice at Home" as well as the other good causes supported by the Penrith Rotary Club. The money raised will be shared between all these very deserving causes.
It is hoped to do it all again next year on Friday 7th August at Penrith Golf Club. Anyone not already on the invitation list who would like to play in the event should apply to Alex Buchan on email 701buchan@gmail.com. Invitations to play will be sent out early in the New Year.