Royal British Legion - Poppy Day
Mon 28th October 2019 at 12.00 - Sat 9th November 2019 - 16.00
We'll be assisting the Royal British Legion as they prepare for Remembrance Sunday by manning collection points in Leyland.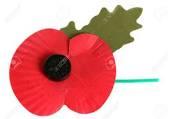 Once again we're proud to assist the Royal British Legion Association as they work to remember those who have given their lives in various conflists including two World Wars so that we can be free today. The Royal British Legion Association also helps those who have survivied conflicts.
We'll confirm our locations in Leyland in October.