SANTA SLEIGH STATIC & STREET COLLECTIONS 2019
Details of the Santa Sleigh Collections for Xmas 2019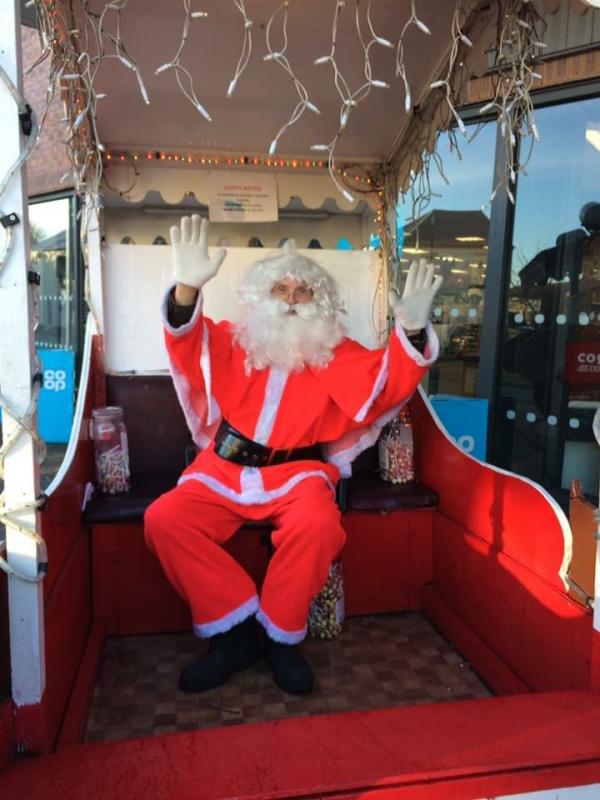 The Santa Sleigh Collections for both Static collections and Street collection starts on Sunday 30th November, through to Xmas Eve morning in Rainhill Village.

The Santa Sleigh schedule is listed below including a Billlinge STATIC update.

(Please note all dates and times are subject to change)

Thank you in advance for your on-going support of our fund raising events.
SANTA SLEIGH - STATIC & STREET COLLECTIONS 2019
Saturday

30th Nov 10am to 6pm

ASDA St. Helens – Static

Sunday

1st Dec at 11am to 5pm

TESCO St. Helens – Static

Monday

2nd Dec at 2pm to 8pm

Billinge – Static

<<< 2pm to 6pm Stork Car Park >>>


<<< 6pm to 8pm Outside Spar Shop >>>

Tuesday

3rd Dec at 10am to 6pm

Marks & Spencer, Gemini, Warrington - Static

Wednesday

4th Dec at 10am to 6pm

Marks & Spencer, Gemini, Warrington - Static

Thursday

5th Dec at 6.30pm

Freckleton Road, Toll Bar, St.Helens

Friday

6th Dec at 3.30pm

Thatto Heath Christmas lights switch on - Static

Friday

6th Dec at 6.30pm

Dee Road Estate, Rainhill

Saturday

7th Dec at 10am to 6pm

Morrisons Boundary Road St Helens – Static

Sunday

8th Dec at 10.30am to 4.30pm

ASDA St. Helens - Static

Monday

9th Dec at 6.30pm

Lowfield Lane Waterside Village

Tuesday

10th Dec at 6.30pm

Owen Street/Roby Street, Prescot Road

Wednesday

11th Dec at 6.30pm

Sutton Heath Rd Elton Head Rd

Thursday

12th Dec at 6.30pm

South Street, Elephant Lane, Thatto Heath

Saturday

14th Dec at 10am to 6pm

TESCO St.Helens – Static

Sunday

15th Dec at 10am to 4pm

Morrisons Boundary Road St Helens -Static

Monday

16th Dec at 6.30pm

Foxwoods Estate / Reservoir Street

Tuesday

17th Dec at 6.30pm

Easington Road, St.Helens

Wednesday

18th Dec at 6.30pm

Stonecross Drive/Chapel Lane, Rainhill

Thursday

19th Dec at 6.30pm

Briscoe Estate Rainhill

Friday

20th Dec at 6.30pm

Jones Estate Rainhill

Saturday

21st Dec at 10am to 6pm

ASDA St. Helens - Static

Sunday

22nd Dec at 11am to 5pm

TESCO St.Helens - Static

Tuesday

24th Dec at 9.00am to 1pm

Rainhill Village – Static