The Car Park
Park your car in Durham City on Saturdays for £2.00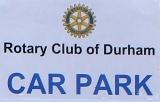 Every Saturday, we provide a public Car Park on Territorial Lane in Durham, by courtesy of Durham University. Anyone can park their car here in return for a minimum donation of £2.00. All income from this service goes straight in to our Charity Fund.
Territorial Lane is off Old Elvet, first left after the Royal County Hotel.
The car park is manned by a rota of four people each Saturday. The rota is very ably managed by Mel French. The car park manning rota can be seen here.
We have been providing this service to the people of Durham since August 1985 when our Bulletin Editor (still with us!) reported that the first day's donations amounted to £42.00.