Rotary International District 1100

Briquettes replacing Carbon as alternative fuel
Environmental Pages - Briquettes Replacing Carbon
(Alternative cooking fuels)
PILOT PROJECT (June/July 2011)
†††††††††††††††† KENYA
Sponsored by Rotary District 1100
REPORT SUMMARY
Introduction
This †pilot reports from five groups (4 schools and one 1 youth group) and covers the manufacture and distribution of 5 prototype briquette-making machines. Expenditure for the pilot includes the time spent by KCCP management and field staff on distribution of the machines, training of the groups, reporting and miscellaneous costs.
The project prototype briquette-making machine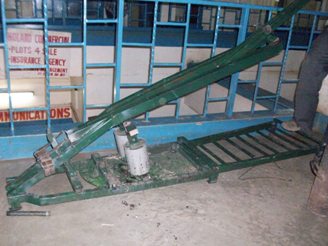 This has been a success. The machine (made from box-section metal) is less costly to make, more efficient and more portable than the more traditional wooden machine. The prototype produces 8 uniform, doughnut-shaped briquettes, ideal for use as cooking fuel in the traditional stoves .
Distribution and Training
The five machines were distributed in late June, by private and public means (one travelled 200kms on the roof of a matatu (mini bus)! Training was initially carried out by the designer, Peter Thuo. Subsequent training was carried out by Interclimate staff. The training involved basic instruction on use of the machine (including safety and security). The main part of the training covered the making of briquettes, including the alternatives for the mix of ingredients depending on local availability and the briquette-making process itself. The options for publicity and raising public awareness, amongst the school population and surrounding community members, was also explored. An 'Action Sheet' on briquette making (PACE) was distributed to support training.
The product is showing good burn characteristics against charcoal..
Whilst pricing still needs further work, innovative routes to market have been explored.
The students see in the project both as an important contribution to limit deforestation and as the†potential for sustainable self employment.
The logistics and cost of training combined with the extent the machines are likely to be used means that 2 related and neighbouring schools can effectively share a machine, thus reducing the cost per school and making the program more efficient.
Roll out Phase 1 Ė
The next stage is to distribute briquette machines to 20 clusters of two schools composed of a Secondary School and a feeder Primary School.
For Rotary Clubs sponsoring this project the cost per installation for TWO schools is £175. The break-down being as follows:†
| | |
| --- | --- |
| ††††††† Supply and Macnufacture of Machine | £††80† |
| ††††††† Training | £††47 |
| ††††††† Project Management | £† 26 |
| ††††††† Follow up and Reporting | £† 22 |
| ††††††† TOTAL | £175 |
Roll out Phase 2 -
A second wave of up to a further 50 installations is envisaged.
The project is receiving a lot of focus given the priority which Government gives to sustainability and the protection of the forests : a potential roll out to 25000 schools is possible if results are positive and well presented.
Back to the†introductory page on this project