Rotary Friendship Exchange
Read this page for details of our exchanges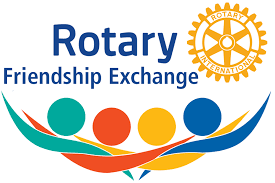 RFE 2020:
The host district provides the accommodation in Rotarians homes, meals at the host homes, travel only when this is in the host's car.
The visiting team members meet their own costs for any meals out at cafes, restaurants etc, Rotary meals (sometimes the club will meet these costs), any hire of drive yourself rental vehicles (we drive on the LHS of the road in NZ ) travel by coaches, trains, planes, and any entry fees to museums, exhibitions, accommodation in hotels, etc.
We understand this is in accordance with R I guidelines and hope it is in line with your expectations.
Please visit our District website at - www.rotary9930.org/. All 55 Rotary Clubs in the district are keen to participate, with no one club hosting more than one RFE every two to three years.
Ken Collier, RFE Chair District 9930 New Zealand
The above is part of a letter I received from Ken which started this whole adventure. After exchanges in the USA, in Pennsylvania and Oregon, which had gone well, and having hosted a group from Australia, it was time for the big one. Let's travel to the other side of the globe and, while we are there, let's spend some time with the Australians as well.
We now have a great gang ready to fly to New Zealand in February and we are expecting the new Zealanders to come to us in the second half of May. We will be looking for hosts in the Liverpool area, the northeast area and in Wales around Dolgellau. If you are up for it let me know......








Contact Richard Withers about this page: