A Celebration of 111 Years of Rotary
This event marked Rotary's 111th birthday.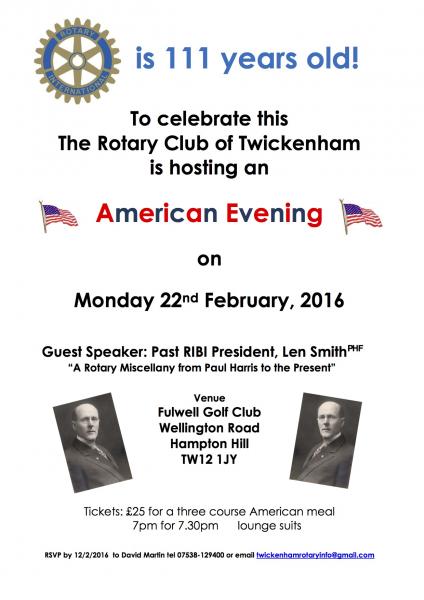 This event marked Rotary's 111th birthday.
On the eve of Rotary's 111th birthday on 23rd February, The Rotary Club of Twickenham held a celebration party to commemorate this anniversary.
Rotary started in Chicago in 1905 so it seemed appropriate to celebrate with an American theme which included the room decorations, the meal choice and the items in the raffle.
Our guest speaker was Past RIBI President Len Smith who gave us an interesting and informative talk on the history of Rotary over 111 years, the various Rotary Fellowships which have grown up and some of the personal highlights of his 58 years in Rotary.
We were delighted to be joined by friends from Feltham Rotary Club and Twickenham upon Thames Rotary Club in addition to many other guests..
At the end of the evening President Barry Buttenshaw presented a cheque for the raffle proceeds to Ann Galgon, President of Rotary Twickenham Upon Thames and this will go to the rebuilding project for the Nepal earthquake.
Contact David Martin about this page: