Another enjoyable weekend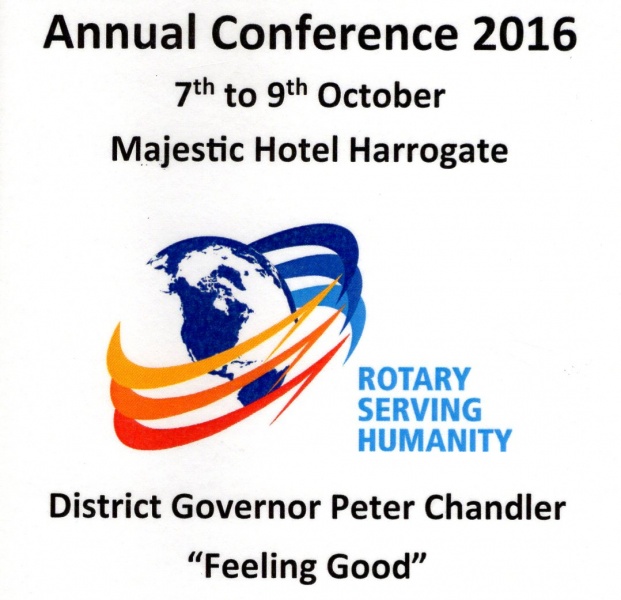 Speakers Included:-
Michael Angelo Caruso - Author & Motivational Speaker
Adrian Webster – Inspirational Speaker & Creator of Polar Bear Pirates
Geoff Mackey – Injecting "Humour" into Rotary
Eve Conway – RIBI President

Friday Entertainment - Old Time Music Hall & Last Night of the Proms with Julie Pendleton.
Saturday Dinner Dance with 60's band The Persuaders.
---
After the Conference, Dave Sadler, the Conference Committee Chairman, prepared this report:-
The 2016 Rotary North East District Conference was held in October - in Harrogate after an absence of two years. It was also my first as Conference Chairman.
Delegates arrived at the Majestic Hotel on Friday in good spirits and, after dinner were treated to some wonderful entertainment as Julie Pendleton & John Rowland concluded a fine performance with a rousing session of Last night of the Proms. Also, a one gallon bottle of whisky was raffled and raised over £1200, enough to send two shelter boxes to Haiti.
The first plenary session, on Saturday morning saw an inspiring array of speakers, who delivered laughter, sadness and thought provoking presentations. Without doubt the highlights were visiting DG Michael Angelo Caruso, a motivational speaker from the USA and Adrian Webster author of the Polar Bear Pirates.
Saturday evening again brought a raffle over dinner which raised £1500 for End Polio Now and afterwards The Persuaders had the dance floor full from first song to last.
The final plenary session on Sunday morning again produced a variety of fine speakers, including the RIGI President Eve Conway and RI Representative Ekkehart Pandel. Nevertheless the room was visibly lifted by the young people of The Crash Bang Wallop Theatre Group and, of course, Rotarian Geoff Mackey with his own hilarious take on our fabulous organisation.
And all too soon it was over. I have since been fortunate to receive a good deal of favourable comments and one or two which highlight areas to improve on. I will take every single one of them on board and apply them to Harrogate 2017 when we will again be at the Majestic.
Finally, it would be remiss of me not to heap praise on my fantastic conference team, each one of whom, for the past year, have given their time freely and worked tirelessly to produce a successful conference for District Governor Peter and his good lady Christine
Dave Sadler PDG / PHF
Conference Chairman