Winners of the Youth Speaks 2018 District Final.
The two winning teams at each age group now compete in the Rotary South-East Regional Final, to be organised by District 1120 and held in Maidstone in April.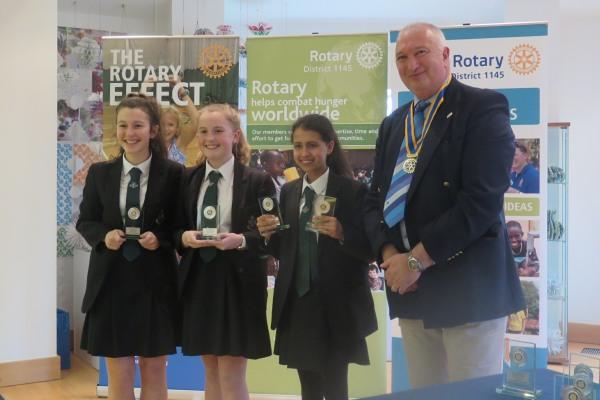 Rotary Youth Speaks 2018
| | |
| --- | --- |
| | |
| The Intermediate winners, The Matthew Arnold School | The Senior winners, Downlands Community School |
Rotary clubs from 27 different locations around our District of Surrey, Sussex and the southern M25 corridor organised the first round of this national competition in their own areas. Teams from around 90 different school will have taken part, divided between the two age groups of 11-13 (Intermediates) and 14-17 (Seniors).
From there, winning teams went on to compete in the five round 2 Semi-Finals, and hence these winners into the District Final, with of course 5 teams competing at each age group. The District Final was staged once again this year by the Rotary Club of Dorking, hosted at St Teresa's School, Dorking, on Saturday March 10th.
Each team comprises a Chair, who has two minutes to introduce the team and their chosen topic; a Speaker who talks for six minutes on that subject; and a Vote of Thanks who has two minutes to round the presentation off. There is also a question from the floor, to show that the Speaker can think on his/her feet! The three judges, all well-experienced public speakers themselves, assess the performances on a designated score sheet, and at this stage of the competition award trophies for the three 'Best' individuals as well as choosing the winning team and the runners up.
The intermediate teams took to the stage first, comprising teams from The Warwick School, Redhill; The Matthew Arnold School, Staines; Farnborough Hill, Farnborough; Midhurst Rother College, Midhurst; and Glebelands School, Cranleigh. Then followed the Seniors, represented by teams from The Sir Robert Woodard Academy, Lancing; Downlands Community School, Hassocks; Godalming College, Godalming; Coombe Boys at New Malden; and Amery Hill from Alton.
The subjects chosen tend to be highly topical and regularly debated in the media, and runners-up Farnborough Hill chose to point the finger at 'Gender (in)equality in sport', making much of how wrong it is that female winners, whether it be in individual or team sports, are rewarded much less financially than their male counterparts. The gap is closing, but not quickly enough, they argue! Farnborough Hill was awarded the 'Best Chair' trophy.
Intermediate Winners were the Matthew Arnold School, picking up both the 'Best Speaker' and the 'Best Vote' awards too. Their topic was 'Shame on you', looking not at how obese people are criticised for their size but how 'Skinny Shaming' can also be a significant stigma, for smaller girls. It can be very upsetting for the smaller figure to be described as a 'bag of bones' and be encouraged to 'eat up and put on some weight', while it might be either an anorexic or a genetic reason for their being smaller. In reality there is no such thing as size perfection, and one should not be encouraged to seek it all the time.
At Senior level the 'Best' awards were shared amongst three schools – Downlands having the Best Chair, Sir Robert Woodard the Best Speaker, and Amery Hill the Best Vote of Thanks. Overall, Downlands Community School won, followed closely by Sir Robert Woodard Academy.
Downlands centred on 'The trials and tribulations of social media' for their topic, asking us if we really wanted to see our best friend's breakfast plate every day, and pondering on how we can cut down on the use of tweeting and Facebook and talk to each other more. It is a Catch 22 situation: we all think we are using social media too much, but if we look to cut down or stop we risk missing out and not being up to date with all that our friends are doing. But they also emphasised how supportive social media can be if you are down: if you are at the end of your phone you are never alone, and this allows friends to rally round and give much-needed support.
The Sir Robert Woodard team also looked at social media, with their question 'Are mobile phones society's newest addiction?'. They too felt we use our mobile phones too much, get withdrawal symptoms if we are not called every ten minutes or so, and suffer from 'phantom vibration syndrome' when we think/hope the phone must be ringing even if it is not. In the future, they pondered, could we be seeing rehab centres for mobile phone users, just as we have now for heroin addicts!
Trophies to the winners, along with Certificates of Participation to all taking part, were presented by DGE David Easton, who praised all teams for the high standard of their performances and for having reached this stage of the competition. And of course he wished the winning teams well at the next stage, as worthy representatives of District 1145.
The two winning teams at each age group now compete in the Rotary South-East Regional Final, to be organised by District 1120 and held in Maidstone in April.
Finally, a huge Vote of Thanks is due to all District 1145 Rotary clubs and their Rotarians who lead in staging any round of this fantastic competition. You are all helping create the leaders of the future, by giving these young people the experience to stand in front of a significant audience and 'do their stuff'. This truly is a huge reason why we join Rotary.
(Photographs show the two winning teams receiving their awards from DGE David Easton. Further photographs, and a video of the day, can be accessed via the website, thanks to District PR team leader Anthony Beevor)
(John Thom. Youth Speaks Organiser - District 1145 19/03/2018)