Swimathon 2019
Our 23rd annual swimming fundraising event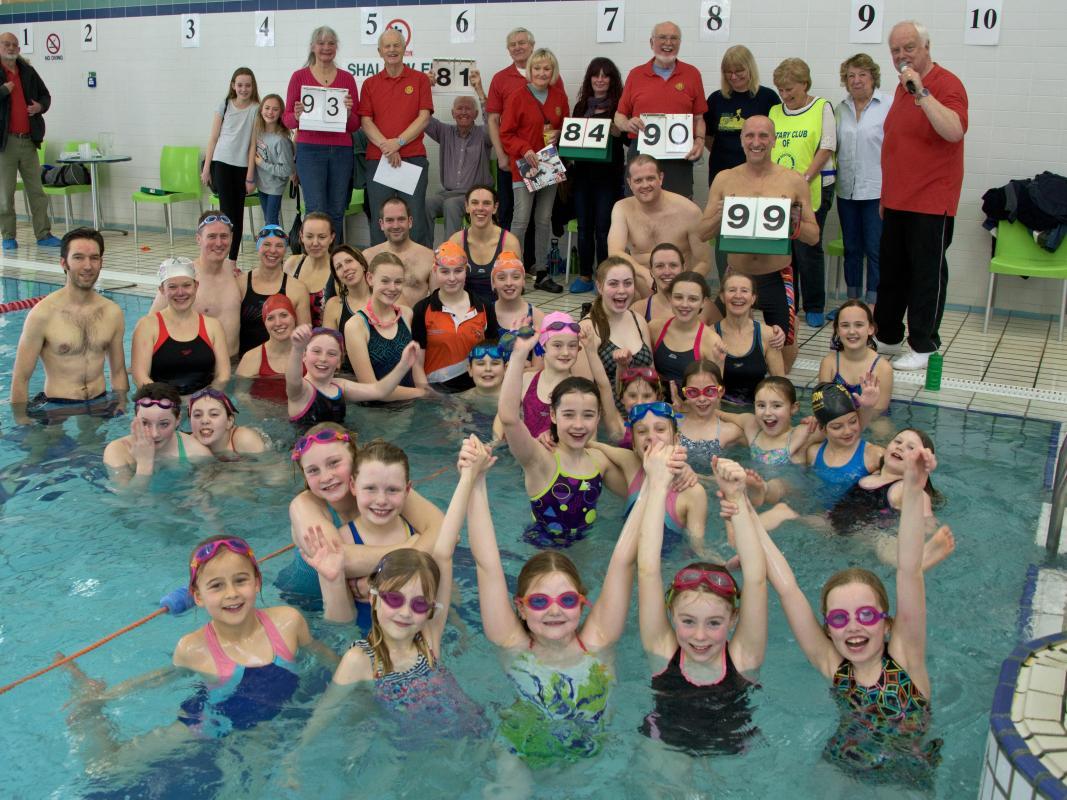 Our 23rd annual swimming fundraising event
(Photo courtesy of North Somerset Times)
ANNUAL SWIMATHON - SATURDAY 30th MARCH 2019
Parish Wharf Leisure Centre, Portishead starting at 10.30am
The event has raised over £207,000 in the last 22 years for numerous charities, schools and groups in the Gordano Valley and beyond and we invite you to take part by forming a team or teams to join in the fun and laughter of the day.
Teams from Primary and Secondary Schools, Guides, Brownies, Scouts, Cubs, Football, Youth and other groups, organisations, families etc. from Portishead, Clevedon, Nailsea, Backwell, Avonmouth and other parts of the area take part each year. Teams of 6 swim in a relay at their own pace (it is not a race) for 35 minutes. Age is no barrier but all entrants must be able to complete a length of the 25 m. pool competently. They should also be aware that during their session they will be starting some of their lengths in the water at the deep end of the pool. We have special arrangements in place for weaker or non-swimmers but need advance notice of anyone in this category.
THE PURPOSE OF THE EVENT IS THAT THROUGH SPONSORSHIP ALL SWIMMERS RAISE AS MUCH MONEY AS POSSIBLE.
Swimathon continues to support local charities and this year our main charities are:-
PORTISHEAD YOUTH CENTRE
ALIVE – Lighting up later life
Alive is the UK's leading charity enriching the lives of older people through meaningful engagement and by training their carers. Alive believes that all older people either in care or at home should feel connected to the world around them and valued as individuals.
A Bristol based charity, Alive delivers activity sessions in care homes and day centres in 10 counties, including North Somerset, Bristol, Bath and South Gloucestershire..
SCHOOLS PROJECTS, OTHER GROUPS AND LOCAL ROTARY CHARITIES
To take part please download the Entry Form and return it to me as soon as possible.
You can also download a sponsorship form
For more information my contact details are below.
Yours sincerely
Rotarian Mollie Young, Chairman, Swimathon Team
8 Trinder Road, Easton in Gordano, BS20 0LX,
Tel. 01275 372725, Mobile 07788 590371
Email: mollieyoung@talktalk.net
To donate to this event please click on the link below
Contact Mollie Young about this page: