Rotary Technology Tournament
For the first time ever Rotary Clubs within Pembrokeshire organised the first ever Rotary Technology Tournament hosted by Pembrokeshire College.
Six schools from Pembrokeshire College: Henry Tudor(Pembroke); Castle School(Narberth) Redhill (Llandisillio); Milford Haven; Ysgol Bro Gwaun (Fishguard); and Ysgol Penrhyn Dewi (St Davids).
Foundation Stage Winners - Milford Haven School
Intermediate Winners - Redhill Hill School
Advanced Winners - Pembrokeshire College
The schools came up with innovative ideas to produce a construction to manually lift a load from a track and move it back along the track whilst balancing it so the crane like structure didn't overturn. It was a complicated task and all students were given the same materials. All schools thought of different ways of constructing their design and had to work out pulled and gearing systems as well as electronically moving the vehicle along the track.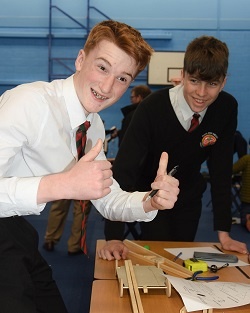 It certainly motivated these young Technology students aged between 11 and 18 years. The Rotary District Governor Clive Edwards commented that he hoped this would motivate other areas within South Wales to stimulate our young people into entering engineering as a profession. He was impressed with the enthusiasm of all young people present.

John Daniels of Haverfordwest Rotary and Chris McLaren of Pembroke Rotary were also delighted that so many local dignitaries were impressed with the innovation in our County.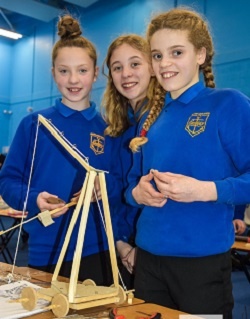 The High Sheriff of Dyfed Stephen Mansel Davies, Deputy Lieutenant Sharron Lusher, Cllr Aden Brinn, Chairman of Pembrokeshire County Council, Sheriff of Haverfordwest Chris Thomas and Head of Children Services Kate Evan- Hughes all were extremely impressed with the high standards and concentration demonstrated by students. Our dignitaries at the end of a long, but enjoyable day presented the prizes.