Local clubs' future events
Leyland - Sat, Jun 17th 2023 at 11:00 am - 6:00 pm Leyland Festival - 17 June 2023
Come and spin the Rotary Wheel on our stand at Leyland Festival and learn what Rotary does to help local charities and communities, and how you could help. You might even win a prize!
Leyland - Sun, Jun 25th 2023 at 11:00 am - 6:00 pm Yellow Ribbon Day - St Catherine's Hospice - 25 June 2023
Enjoy a family fun day out in support of St Catherine's Hospice. Leyland Trucks' adrenaline-filled TRUCK PULL will take place at 1pm.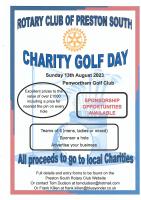 Preston South - Sun, Aug 13th 2023 at 8:00 am - 6:00 pm 30th Charity Golf Day
Penwortham Golf Club