Local clubs' future events
Wells - Sun, Jun 11th 2023 at 9:30 am - 4:30 pm Art 4 All
An open day for all artists of all ages and levels who want to practice and share their skills.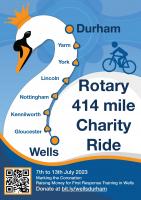 Wells - Fri, Jul 7th 2023 at 4:00 pm - 6:00 pm Wells Rotary Charity Bike Ride
WELLS ROTARY
414 MILE CHARITY BIKE RIDE
FROM ST CUTHBERTS CHURCH WELLS TO DURHAM CATHEDRAL Well we are off again! A few brave souls from Wells Rotary Club and their friends are attempting a sponsored cycle ride.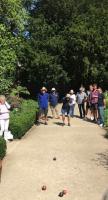 Wells - Sun, Jul 16th 2023 at 9:30 am - 11:30 am Boules at the Palace
The Wells Rotary Charity Boules Tournament in the gardens of the Bishop's Palace in Wells is an annual event: a great family day out in aid of local good causes: