Future meetings and events around the district
Redhill, Reigate and District - Wed 7th November 2018 at 19.30 - 22.30 Quiz Evening

Fun Quiz with all proceeds to St. Catherine's Hospice. Come as a team of 4 - 6 or come alone and make new friends.
Redhill, Reigate and District - Fri 14th December 2018 at 11.00 - 11.00 Christmas Party for Age Concern, Merstham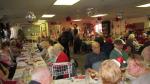 Last year we cooked for guests, volunteers and staff at their Christmas Party so that everyone could have a good time. We enjoyed it so much we asked if we could do it again!
Redhill, Reigate and District - Mon 24th December 2018 at 09.00 - 09.00 Breakfast with Santa

Great treat for all children (particularly under 10's), their families and Santa's Little Helpers.