Local clubs' future events
Peterborough - Mon 21st June 2021 at 10.00 - 18.00 GOLF DAY - CHARITY OPEN TEAM CHALLENGE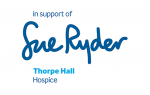 An opportunity for teams to take part in a great day out at the fabulous Milton Golf Club. Friendly competition, a good meal, a chance to catch-up - and raise money for the Sue Ryder hospice and local charities.
Uppingham - Sun 27th June 2021 at 19.15 - 23.30 President's Night 27 June 21

A celebration of the end of restrictions (we hope) - John Cartwright will discourse on the subject of "the case of the Uppingham Strangler"