Future meetings and events around the district
Northallerton Mowbray - Sun 23rd February 2020 at 15.00 - 17.30 A Shetland Murder Mystery Afternoon Tea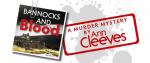 Come and solve the clues to a mystery "Bannocks and Blood" written by Anne Cleeves, author of the Shetland Novels, whilst enjoying a Scottish themed afternoon tea.
This event will be held at The Forum, Northallerton
Northallerton Mowbray - Sun 5th April 2020 at 10.00 - 16.00 Bedale Book Fair
The Club will once again be organising the Bedale Antiquarian Book and Postcard Fair with funds raised going to Rotary Charities
Wensleydale - Sat 18th April 2020 at 09.00 - 17.00 WENSLEYDALE WANDER 18th April 2020

An annual 12 or 23 mile round walk in scenic Wensleydale on 18th April 2020, in aid of local Rotary selected charities and principal Charity, Yorkshire Cancer Research. Very friendly and great fun
Wensleydale - Fri 19th June 2020 at 19.00 - 22.00 Charter Night/Handover
Again at Wensleydale Creamery in Hawes. Details to follow.