Local clubs' future events
Peterborough - Sat, Apr 15th 2023 at 12:30 pm - 6:30 pm Grand National Lunch - Longthorpe Village Hall
"It's just like being there" - All the action from Aintree on a big, big screen, plus lots of fun, lunch - and a pinch of fundraising!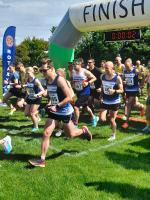 Deepings, The - Sun, May 21st 2023 at 10:00 am - 12:00 pm The Deepings Charity Runs May 21st 2023
Further information
Peterborough - Mon, Jun 5th 2023 at 9:00 am - 3:00 pm Charity Golf Day - Milton Golf Club
Generously sponsored by Comparethemarket.com, this is our annual golf competition, with lunch and our famous big raffle. Proceeds for Sue Ryder, Thorpe Hall and the other charities supported by the Club. Simples!