Future meetings and events around the district
Wolverton & Stony Stratford - Fri 25th May 2018 at 17.00 - 22.00 Are you up for the Challenge?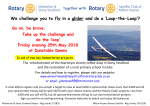 Do the Loop-the-Loop Glider Challenge
Buckingham - Sat 30th June 2018 at 13.00 - 18.00 BUCKINHGAM CLASSIC
SATURDAY 30TH JUNE 2018 FROM 1:00PM
AT THE RICHARD ROPER PLAYING FIELD, GAWCOTT
CLASSIC CARS, MOTORCYCLES AND INTERESTING YOUNGER VEHICLES
Winslow - Sun 15th July 2018 at 09.00 - 17.00 Winslow Classic Car Run

Welcome to the third Rotary Club of Winslow Classic Car Run. We invite you to join us on this non-competitive charity event touring the roads of Buckinghamshire, Oxfordshire and Warwickshire. Offered at the low entry fee of £40 the profits from this event
Milton Keynes Grand Union - Sat 28th July 2018 at 19.00 - 23.55 2018 President's Night
Our annual president's night will be a carvery and disco at Carlton House Club in Olney
Milton Keynes Grand Union - Fri 16th November 2018 at 19.00 - 23.00 2018 Quiz Night
Our annual quiz will take place at the Medbourne Pavilion.