Future meetings and events around the district
Hatfield - Sun 29th April 2018 at 09.00 - 11.00 Hatfield & Welwyn Garden City Charity Walk

Choose whether to walk or run, choose your distance - short, medium or long and you can also choose to complete a puzzle along the way. Come along to Campus West and join in
Potters Bar - Wed 2nd May 2018 at 19.30 - 23.30 'Blast From The Past'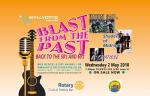 Great sounds from the 50s and 60s
Brookmans Park - Sat 5th May 2018 at 14.00 - 17.00 May Day Celebration
Maypole Dancing, Punch & Judy, Morris dancers, Village Stocks and much more. Come and join us on Saturday 5th May for a fun packed afternoon.
Harpenden Village - Fri 18th May 2018 at 19.30 - 22.00 Charter Night - 30th Anniversary of our Rotary Club
We Celebrate this milestone with a dinner for Rotarians old and new.