Future meetings and events around the district
Ebbsfleet Riverside (Provisional) - Fri 22nd March 2019 at 19.00 - 23.25 Quiz night
Fun quiz night to raise funds for our local charities at The Kufflink Stadium in Northfleet
Strood - Wed 3rd April 2019 at 19.00 - 20.00 Medway Little Theatre
Charity Preview of SOMEONE WHO'LL WATCH OVER ME
Northfleet with Ebbsfleet Garden City - Sat 6th April 2019 at 19.30 - 22.30 Hooked on Flutes

An evening of Classical and Popular Favourites played by three international flautists with piano accompaniment.
Medway Sunlight - Fri 12th April 2019 at 18.30 - 22.00 Pig Racing !

A new event for our Club - come and try it!
Raising funds for Head2Head Theatre and other Rotary supported charities
Strood - Sat 13th April 2019 at 08.00 - Sun 14th April 2019 - 08.00 Know Your Blood Pressure Day
As part of the Know Your Blood Pressure Day, the Rotary Clubs in Medway will be hosting this at Hempstead Valley.
Medway Sunlight - Sun 26th May 2019 at 09.00 - 17.00 2019 Dragon Boat Challenge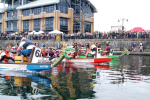 This ever popular annual charity event takes place on Whitsun Bank Holiday Sunday at Basin 2 Chatham Maritime as part of the three day Food and Drink Festival.
Ebbsfleet Riverside (Provisional) - Fri 20th September 2019 at 19.00 - Sat 21st September 2019 - 22.00 Race Night
Race night to raise funds for local charities and communities
Ebbsfleet Riverside (Provisional) - Fri 15th November 2019 at 19.00 - 23.00 Party Night with the Counterfeit Beatles

Dance the night way to the music of the Beatles