Completed meetings and events 2020-2021
Mon 19th October 2020 Oct 19th - Zoom 29- Club Discussion

Team leaders to present their reports.
An opportunity for a free ranging discussion.
Mon 12th October 2020 October 12th - Zoom 28- Virtual Treasure Hunt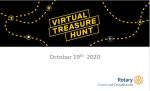 Many thanks to Clitheroe Rotary club for this great game.
read more...
Mon 5th October 2020 Oct 5th - Zoom 27 - Rotary Caravanning Fellowship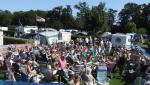 Are you new to Rotary? No ? What do you know about Rotary fellowships?
Why not listen is for 10 mins to my chat ? It may change your life it did for me!
Bruce Wallace ( World President International Caravanning Fellowship of Rotarians).
read more...
Mon 28th September 2020 Sept 28th - Zoom 26 - Wow! 6 months of Zoom meetings

Simple quiz.
Mon 21st September 2020 - Mon 14th September 2020 Sept 21 - Zoom 27 - Lyndon's batteries and Video Bingo

Lyndon will tell us how to extend the time between charging our devices.
Another opportunity to play Video Bingo which still seems to be unique to CandO Rotary!!
read more...
Mon 21st September 2020 Club Council Meeting

Agenda to be provided in advance of the meeting
Mon 14th September 2020 Sept 14th - Zoom 24 - Crowdfunding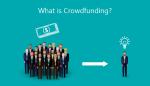 Garth Arnold ex District Governor for Rotary Ireland in 2017-18, will be talking on this subject
read more...
Mon 7th September 2020 Sept 7th - Zoom 23 - Aquabox talk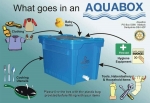 Roz Adamson will give us an up-date on Aquabox. A recent article written by Roz is displayed below.
read more...
Mon 31st August 2020 Aug 31st - Zoom 24 - David King, RGBI Editor, will speak,

Telling Rotary's story in a post-Covid era. Please check out "Together talks" and the latest RGBI magazine editorial before the meeting.
read more...
Mon 24th August 2020 Aug 24th @ 7:30 - Zoom 21 - 'Social evening'

Some sort of online party.
Bring a friend?
Furness Peninsula Rotary is being invited to join us!
read more...
Mon 17th August 2020 Aug 17th - Zoom 22 - The Impact of COVID-19 on local and national charities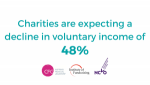 Iain Wilson of Shelterbox will talk on this subject.
read more...
Mon 10th August 2020 Aug 10th- Cathy and Robert's Quiz

Quiz night.
Can anyone catch Lucy at the top of our league table?!
read more...
Mon 3rd August 2020 Aug 3rd @ 7:30 Club Discussion - team leader updates

Rotarians to provide up-dates of plans presented at Club Assembly.
read more...
Mon 27th July 2020 July 27th @ 7:30 - DG Val Robinson will talk + Album Covers

DG Val Robinson will share her Rotary perspective with us. We are also going to talk music! Please identify one of your favourite albums and talk about why you chose it.
read more...
Mon 20th July 2020 July 20th - Foundation Talk + Money Quiz!

Simple and brief talk about Foundation + Money quiz
read more...
Mon 13th July 2020 July 13- Dr Grimes will talk; and Jim will quiz us!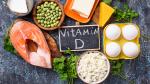 Dr Grimes will be giving us an up-date on the Pandemic from his perspective. And Jim is organising his second quiz.
read more...
Mon 6th July 2020 July 6th - Zoom - Eve - Geoff Knipe will talk to us about modern slavery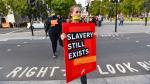 Geoff will look at the history of slavery and compare the "transatlantic slave trade" with the current position; plus the many different types of slavery. Also Geoff will introduce the Rotary Action Group Against Slavery.
read more...
future
calendar
local events