Completed meetings and events 2019-2020
Sat 20th June 2020 Pub Walk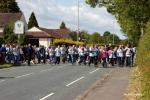 16 mile pub walk in the Ribble Valley in aid of the East Lancs Hospice
Mon 8th June 2020 Visit to Waddow Hall

One course meal followed by a tour of the Hall.
Sat 30th May 2020 Family Fun Day
Held at the Old School Room and grounds. St Michaels and St John's Lowergate. Clitheroe.
Mon 27th April 2020 Peter Holdsworth
Talk by past English Teacher
Mon 27th January 2020 Talk on a local topic
John Pallister
Mon 20th January 2020 Talk about Membership Development
Rotarian Bill Honeywell RC Clitheroe
Mon 16th December 2019 Christmas Party
Annual party with partners and guests
Mon 9th December 2019 Games Night
Games played in pairs, such as whist, dominoes, pelmonism with guests.
Mon 2nd December 2019 SGM and film of Polio history and.development of vaccines
Film as shown on Rotary Webpage
Mon 25th November 2019 Derian House
Latest developments at Derian House, Childrens Hospice. Speaker Mike Croskery
Mon 18th November 2019 Firsts
Quiz by Linda Bindless
Mon 11th November 2019 Shifting Sands - Linda Bindless

Talk on Morecambe Bay
Mon 4th November 2019 Committee Meetings
Discussion of projects
Mon 28th October 2019 Visit by DG Miles Leadbetter
Discussion of future plans
Mon 21st October 2019 TBA. Maybe film show on Turkey

Richard Dugdale
Mon 7th October 2019 Tasmania

Slide show of a cycle trip observing wildlife etc. -Richard Dugdale
Fri 20th September 2019 Dine Around
Three course meal in different hotels for members and guests
Mon 29th July 2019 Human Trafficking and Modern Slavery
Talk by Georgie Hutton, Police NCA
Mon 8th July 2019 REMAP
Talk by John Moutrie.. Production of disabled equipment
Mon 1st July 2019 60 years a farmer
Talk by George Whittaker
future
calendar
district events
local events