Completed meetings and events 2022-2023
Mon 21st November 2022 Moonraker Presentations Evening
at Oake Manor Golf Club
Mon 31st October 2022 Rotary Foundation
At Corner House Hotel, Taunton. Rotary Foundation helps Rotary members to advance world understanding, goodwill, and peace by improving health, providing quality education, improving the environment, and alleviating poverty to the tune of over $4 billion.
Mon 24th October 2022 Treasure Hunt
Can you locate and answer the clues without GPS. Learn more about Wellington Town Centre. Meet at North Street Car Park at 6 p.m.
read more...
Mon 10th October 2022 Speaker Meeting at Oake Manor Golf Club
Adam Keates - My job/my life talk.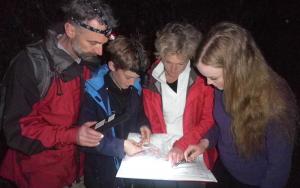 Sat 8th October 2022 - Sun 9th October 2022 Moonraker Challenge
Night walk starting from Langford Budville Jubilee Hall
read more...
Mon 26th September 2022 Out Meeting
Foraging with Dr Chris Grieco - the ultimate pick your own supper.
More details to follow.
Mon 12th September 2022 Speaker Meeting at Oake Manor Golf Club
Ups and Downs - Michelle Sugg, PR * Events Officer will talk about the service they provide and how we can help them in the coming year.
Tue 6th September 2022 Moonraker Test Walks
Testing the routes for 8 October
Mon 22nd August 2022 Out Meeting to CHARIS, Hammet Street
A chance to meet CHARIS staff and resettled refugees at their new Welcome Centre in Hammet Street.
Mon 8th August 2022 Speaker Meeting at Oake Manor Golf Club
Musgrove 2030: Ian Boswell, Projects Director at Taunton & Somerset NHS Foundation Trust
Wed 3rd August 2022 Presidents 'At Home'
Hosted by the Presidents of Rotary and Inner Wheel
Thu 21st July 2022 Taunton Vale Golf Day at Oake Manor Golf Club
See our events website at www.tauntonvalerotary.org.uk
Mon 11th July 2022 Club Meeting at Oake Manor Golf Club
Quiz
district events
local events