Links and News
Club Links
From the local Rotary District
What is Rotary 2 ?
---
Rotary 2 is a new style of Rotary for young people who want to be actively involved in supporting their community. People of Action.
details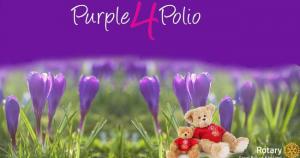 Purple for Polio 2019
---
Plant a PURPLE4POLIO Crocus & help ROTARY END POLIO NOW
details
Speakers for Zoom meetings, and more
---
Find a speaker, videos and other activity for your zoom meetings.
details
Rotary News
Latest from Rotary International
Latest from Rotary GB&I