Completed meetings and events 2018-2019
Wed 10th April 2019 At Chalford House -Speaker Meeting
Illustrated talk by Ashley White - Wiltshire Wildlife Trust
Wed 3rd April 2019 Club Planning and Programing
At the Chalford House Hotel
Wed 27th March 2019 Club Visioning - St Bernadette's RC Church Annex
To discuss the way ahead for the club.
BYO sandwiches and drink.
Sat 23rd March 2019 White Horse Litter Pick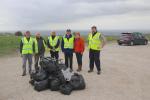 Members of the Westbury Rotary Club collected and removed 12 bags of rubbish from the Westbury White Horse Car Park.
Wed 20th March 2019 Chalford House Hotel - Speaker
Rtn Jon Street will give his Job Talk
Wed 6th March 2019 Club PLanning and Programing
Planning and Programming Meeting
Sun 3rd March 2019 IMBER ULTRA MARATHON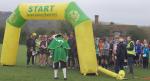 The 6th Annual Ultra Marathon, which is a trail run of around 33 miles around the Salisbury Plain range path, will take place on Sunday 3rd March 2019.
Please see www.imber-ultra.org for details.
read more...
Wed 27th February 2019 Speaker Meeting
Wildlife on Salisbury Plain (tbc)
Wed 20th February 2019 Imber Ultra Briefing
At the Leighton Sports Centre
Mon 11th February 2019 Club Away Days
Fellowship at an Hotel in Tetbury
Wed 30th January 2019 Scatter Week
No Club Meeting
Wed 23rd January 2019 Club Planning and Programing
Speaker - Clive Brain - Skipper of the Bristol Harbour Fire Boat.
Wed 23rd January 2019 Speaker Meeting
Clive Brain, the skipper of the Bristol Harbour Fire Boat.
Wed 2nd January 2019 Frome Pantomime
Annual visit to the Frome Memorial Theatre to see the FMTC pantomime ALADDIN.
Wed 26th December 2018 No Meeting
Boxing Day
Wed 19th December 2018 Christmas Party
At the West Wilts Golf Club, Warminster, in conjunction with Inner Wheel.
Wed 12th December 2018 At Chalford House Hotel
Rehearsal for Christmas Party Entertainment
read more...
Wed 5th December 2018 Chalford House Hotel - Club Council and Planning
Club Council and Planning
Mon 3rd December 2018 Rotary Carol Concert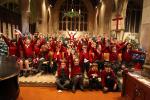 The annual carol concert held at at All Saints Church, Westbury, featuring choirs from the local junior schools.
read more...
Wed 28th November 2018 Club Meeting at Crosspoint, in the Market Square
Meet at 18:30.
To discuss the Carol Concert, Christmas Party entertainment rehearsal and anything else of interest.
No Food. Please bring a cup for a drink
Tue 27th November 2018 International visit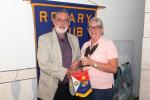 IPP David and Dee visited two Rotary Clubs during their holiday in Sint Maarten
read more...
Wed 21st November 2018 Rotary Meeting at the Chalford House Hotel
Speaker - John Salvat
-"The 7 year Hitch". The story of a cottage restoration in the Forest of Dean that over-ran its intended time.
Wed 14th November 2018 ICE Washup, Carol Concert and Imber Ultra discussion Meeting
At the home of PP Martin Holborow
Sat 10th November 2018 International Cuisine Evening
This year's International Cuisine Evening was held in the Laverton,
Delicious food from the four corners of the world
read more...
Wed 7th November 2018 at Chalford House -Club Planning Meeting
Also to finalise the details of ICE on 10th Nov.
Wed 31st October 2018 ICE Planning
Meet at the office of Julian Sandoe at 6:30.
BYO sandwiches.
Wed 24th October 2018 Westbury Heritage Centre
Meet at the Westbury Heritage Centre in the High Street at 6:30 p.m.
Afterwards to the home of PE Sue Ezra for the first meting of the 2019 Imber , programmed for 3rd March
Wed 24th October 2018 Westbury Heritage Centre

Some members of the Rotary Club of Westbury visited Westbury's Heritage Centre in the High Street.
read more...
Wed 17th October 2018 At Chalford |House -Speaker Meeting
District Uganda Project - Speaker Cate Whitewood of Yeo Vale RC
Wed 10th October 2018 Visit to the Westbury Heritage Centre
High Street, Westbury. Time tbc
Wed 3rd October 2018 Chalford House Hotel - Club Council and Planning Meeting
Possible Imber Ultra Planning
Wed 26th September 2018 Meeting at the Three Daggers, Edington
'Job Talk' by Rtn Elizabeth Webbe
Wed 19th September 2018 Rotary meeting at the Chalford House Hotel
The main topic will be to discuss the International Cuisine Evening and the formation of the proposed Satellite Club.
Wed 12th September 2018 No Meeting - President away
As the President, Vice President and Immediate Past President will all be away, there will be no Rotary meeting.
Wed 5th September 2018 Club Council & Planning at the Chalford House Hotel
Detailed planning for the months ahead.
Wed 1st August 2018 - Wed 29th August 2018 No Meetings during August
Due to the low number of Rotarians available, there will be no meetings in August.
Wed 25th July 2018 Club Fellowship at La Campagna restaurant, Upton Scudamore
The available members and guests will meet at the new Italian Restaurant for an evening of Fellowship. Sue Ezra coordinating
Wed 18th July 2018 Speaker Meeting at the Chalford House Hotel
Ian Drew, the Editor of the White Horse News will tsalk to the club about the running of the community newspaper
Thu 5th July 2018 Rotary Skittles

Westbury Rotary Club Skittles team has won the Plate in the District 1200 Skittles competition
Wed 4th July 2018 Club Handover, followed by Club Council and Planning

Rtn Mervyn Harris took over the presidency of the club from Rtn David Perkins.
Rtn Sue Ezra was inaugurated as the President Elect
Wed 4th July 2018 Handover

2017/8 Pres David handed over the presidency to Rtn Mervyn Harris for the Rotary year 2018/9
read more...
future
calendar
district events
local events