Future meetings and events
Thu 2nd July 2020 at 19.00 - 20.00 Cub weekly Zoom meeting

The club members will hold their weekly club meting by Zoom
Wed 8th July 2020 at 19.00 - 20.00 Cub weekly Zoom meeting

The club members will hold their weekly meeting by Zoom. Tonight Rotarian David Perkins will talk on Rotary Foundation
Wed 15th July 2020 at 19.00 - 20.00 Cub weekly Zoom meeting

The club will hold it's weekly Zoom meeting, this week we will be be having a Club Quiz. The Quizmaster will be our Honorary member Cavan Algar, we hope to be entertained by his usual wit and charm not to say fair play.
Sat 21st November 2020 at 19.00 - 23.00 International Cuisine Evening (ICE)

The Club's ICE event is planned to be held at the Laverton in Westbury.
An evening celebrating varying styles of cuisine from around the Globe
Mon 7th December 2020 at 18.00 - 20.00 Westbury School's Christmas Carol Concert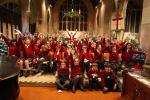 The annual carol concert will be held at at All Saints Church, Westbury, featuring choirs from the local junior schools.
Sun 7th March 2021 at 12.00 - 17.00 Imber Ultra Marathon
Imber Ultra Marathon to be run around Salisbury Plain