Completed meetings and events 2021-2022
Thu 16th September 2021 NOTICE TO MEMBERS & POTENTIAL VISITORS
As the coronavirus situation appears to ease our weekly, Thursday evening, face to face meetings have been re-introduced. Our speakers will occasionally be via the Zoom Video Conferencing facility. Please contact us for more information.
read more...
Thu 16th September 2021 John McTaggart talking about Ayrshire's Colleges Passing Positivity Initiative
John will be talking to us on 16th September about this award winning initiative was developed to improve the mental health of those in our communities and has received global recognition.
read more...
Thu 9th September 2021 Dr. Sally Lawton talking about her book - The Nurse Who Found Herself in 1916.
Sally will be talking to us on Thursday 9th September at 7pm
read more...
Thu 26th August 2021 First Face to Face meeting since the pandemic started
We intend to start meeting again Face-to-Face again on a weekly basis.
This is a trial run - no speaker - just a catch-up with everyone.
Thu 12th August 2021 Our twice monthly online meeting with Colin Powell - 'Polio is more than a word'.
Colin will be talking to us on Thursday 12th August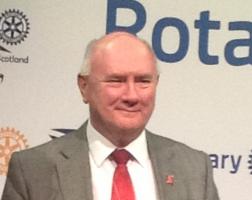 Thu 22nd July 2021 The Rotary Foundation with John Waddell
All your questions answered about Rotary's charity.
John will be speaking to us on Thursday 22nd July
read more...
Thu 8th July 2021 There will be NO Club Meeting this evening.
There will however be a Club Council Meeting tonight from 7pm.
calendar
district events
local events