Completed meetings and events 2020-2021
Fri 25th June 2021 June Jamboree - POSTPONED
A Food and Wine evening at Guisborough Cricket Club, hopefully celebrating the end of lockdown, Details tbc THIS EVENT HAS BEEN POSTPONED BECAUSE OF COVIDE-RELATED UNCERTAINTY.
Thu 17th June 2021 Club Assembly
The annual meeting - via Zoom
Thu 10th June 2021 A Forgotten Industry
A talk by Peter Appleton of the Skelton History Group about the history of alum mining - via Zoom
Thu 3rd June 2021 Garden Party
An outdoor gathering for up to 30 people at Melandra, Belmangate, Guisborough with an Asian- themed buffet and carefully chosen wines.
Thu 27th May 2021 AGM
Our annual meeting via Zoom
Thu 20th May 2021 Defence of the North East
A talk by local photographer and artist Stuart McMillan via Zoom
Thu 13th May 2021 Membership discussion
A discussion via Zoom on how we might increase membership.
Thu 6th May 2021 - Fri 7th May 2021 A Picture Quiz
Organised by Colin Monson via Zoom
Fri 30th April 2021 President's Night
A nautical flavoured Zoom with music, a quiz, nostalgia and a "fishy dish" organised individually.
Thu 22nd April 2021 Business Meeting
Monthly Meeting via Zoom
Thu 15th April 2021 Desert Island Discs
Members are asked to send details of a piece of music to Dennis Claridge. On the night they will give reasons for their choice.
Thu 8th April 2021 Issues with Tissues
A talk via Zoom by Jane Sutton of Physio+. "Factor therapy - much more than a Physio". Please note the earlier start time of 5.45pm.
Thu 1st April 2021 Helping a school damaged in the 2015 Nepal earthquake
A talk via Zoom by Peter Reid (Plympton Club)
Thu 25th March 2021 Business Meeting
Monthly Meeting via Zoom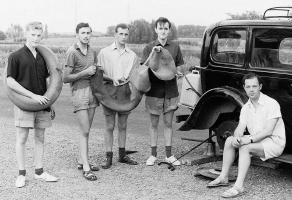 Thu 18th March 2021 Around Europe with Leaks and Squeaks
Dennis Claridge will talk via Zoom about a journey he did as a student in a 1934 Alvis limousine.
Thu 11th March 2021 What to see in the Night Sky
Talk via Zoom by John McCue, a Double Star Advisor to the British Astronomical Association
Thu 25th February 2021 Monthly Business Meeting
Our monthly meeting via Zoom
Thu 15th October 2020 A talk by Peter Ellis
Subject to be announced
Thu 8th October 2020 Girl Guiding in Guisborough
A talk by Alison Brown via Zoom. Note The meeting may not start until 7 pm. Via Zoom.
Thu 1st October 2020 My favourite book
Members are invited to talk about their favourite book or author. Via Zoom.
Sat 12th September 2020 Annual Litter Pick
Meet at 69 Belmangate at 10.30 am. Equipment is provided.
Thu 13th August 2020 Kiwis can Fly!
A talk by Vivien Holmberg about her father's experiences in WW2. This is via Zoom
Thu 6th August 2020 Recite a poem of your choice
Meeting via Zoom
district events
local events