Completed meetings and events 2022-2023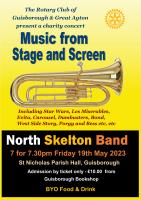 Fri 19th May 2023 Music from Stage & Screen
A brass band concert by North Skelton Band in the Parish Hall, Guisborough. 7 for 7.30pm. Tickets £10 from Guisborough Bookshop. BYO Food & Drink.
Thu 11th May 2023 THe History of Boyes Stores
Mr Fawcett, a long-term employee, will tell the history of Boyes. At Gisborough Hall 5.15 for 5.45 pm . VH: Maureen Smith C: Vivien Holmberg
Thu 13th April 2023 Cragside
Phil Burton will tell us about the history of this magnificent Nationa Trust property in Northumberland. At Gisborough Hall. 5.15 for 5.45. VH David Lister C Peter Torbet
Thu 23rd February 2023 Business Meeting
Rotary Day. Our monthly meeting at the Masonic Hall. 5.30 for 6
VH Kevin Henderson C Amanda Long
Thu 16th February 2023 Murder Mystery
A James Bond themed murder mystery evening. Details TBA
Thu 9th February 2023 The Meserani Project
Peter Swan will talk on the Meserani Project, a charity with a focus on providing education for young people in east Africa, where secondary and further education are not easily accessible. Gisborough Hall, 5.15 for 5.45 VH David Lister C Mark Lister
Thu 26th January 2023 Business Meeting
Our monthly meeting. At the Masonic Hall VH Angela Etwell C Jill Jakubowiak
Sun 22nd January 2023 Charity Quiz
A quiz in support of JPC Community Farm and Yatton House Community Garden. At the royal Oak, Great Ayton. £5 inc Pie & Peas
Thu 29th December 2022 No Meeting
No meeting
Thu 22nd December 2022 No meeting
No meeting.
Thu 25th August 2022 Business Meeting
Our monthly meeting. At the Masonic Hall 5.30 for 6 pm. VH Philip Wallwork, C Angela Moody
district events
local events