Completed meetings and events 2020-2021
Wed 21st October 2020 Committee Reports by ZOOM

ZOOM MEETING
Sat 17th October 2020 - Walk For Polio 17th to 31st October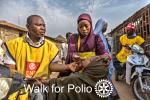 Rotary is at the forefront of the campaign to eliminate Polio. Why not do a socially distanced "Walk for Polio" around the Heatons on or near to world Polio day on 24th October and help us raise funds.
read more...
Wed 14th October 2020 Committee Meetings by ZOOM

Committee Meetings
Wed 7th October 2020 Speaker Meeting

Philip Smith will be speaking about place names.
Wed 30th September 2020 No Meeting
5th Wednesday
Wed 23rd September 2020 Speaker Meeting , Murray Jacobs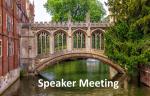 Murray is a green badge guide and will give us a ZOOM walking tour of Cambridge.
Wed 16th September 2020 Committee Reports by ZOOM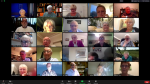 Reports to Club by ZOOM
Wed 9th September 2020 Committee Meetings

Committee meetings by ZOOM
Wed 2nd September 2020 Speaker Meeting Councillor Laura Booth

laura Booth will be speaking to us about her year as Mayor of Stockport
read more...
Wed 26th August 2020 Musical Evening with Mitchell Greengrass

The Foundation and International Committee arranged for Singer/Songwriter Mitchell Greengrass to entertain us via Zoom.
read more...
Wed 19th August 2020 Committee Reports by ZOOM

Committee chairs report during a ZOOM meeting
Wed 12th August 2020 Induction of four new members 12th August

At a special ZOOM meeting we welcomed four new members to the club.
If you are interested in learning more about Rotary then please email us. lamplightersrotary@gmail.com
read more...
Wed 5th August 2020 ZOOM Speaker Meeting PDG Keith Paver

On 5th August PDG Keith Paver gave a very interesting and up to date talk on Virology with particular emphasis on the current Covid 19 Pandemic.
read more...
Wed 29th July 2020 No Meeting (5th Wednesday)

No Meeting tonight.
Wed 22nd July 2020 Speaker Meeting using ZOOM

Tonight's talk will be by Rachel and Nigel from the Cherry Tree project in Romiley.
Wed 15th July 2020 Committee Reports

Committee reports by ZOOM.
Wed 8th July 2020 Committee Meetings

Committees meet by ZOOM or teleconference.
Wed 1st July 2020 NO MEETING

No formal club meeting tonight , there will be an informal ZOOM drop in session available to members.
future
calendar
district events
local events