Completed meetings and events 2016-2017
Sat 6th May 2017 Fun Quiz Night with supper - Just £10 per head
This popular Rotary with Stevenage Scouting event starts at 7pm at the Scout Hut Poplars on 6th May
read more...
Mon 27th March 2017 Lonsdale School activity night
One of our 3 annual visits when we join with the students at Lonsdale Special School for a bit of fun and games. Always a rewarding evening
Mon 27th March 2017 Members - Collect your Jam at the Lonsdale School meeting
Ted will bring along 1 jar of Tiptree 'End' Polio Now' jam per Member for collection, with donation to Rotary Foundation (EPN)
read more...
Mon 20th March 2017 Dinner with Global Scholar Christal Owosu
Christal will explain how her Rotary funded post graduate study year is progressing
read more...
Thu 23rd February 2017 Rotary collection at Stevenage Rail Station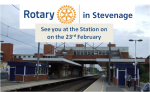 To celebrate Rotary Day on 23rd, Rotarians will be at the Station to promote awareness and collect funds for local charitable causes.
read more...
future
calendar
district events
local events